Cooperative flat 106/E2
Cooperative flat 104/E2 - Sold
2+kitchenette, 60,5 m2

Cooperative flat 103/E2 - Sold
2+kitchenette, 59,1 m2

Cooperative flat 101/E2 - Sold
1+kitchenette, 34,1 m2

Cooperative flat 102/E2 - Sold
2+kitchenette, 60,1 m2

Cooperative flat 105/E2 - Sold
2+kitchenette, 59,1 m2

Cooperative flat 106/E2 - On sale
4+kitchenette 88,9 m2
368 388 €

Cooperative flat 107/E2 - On sale
2+kitchenette 53,6 m2
269 287 €

Cooperative flat 108/E2 - Sold
2+kitchenette, 51,8 m2

Cooperative flat 109/E2 - Sold
2+kitchenette, 54,1 m2

Cooperative flat 110/E2 - Sold
2+kitchenette, 51,8 m2

Cooperative flat 111/E2 - Sold
2+kitchenette, 54,1 m2

Cooperative flat 112/E2 - Sold
1+kitchenette, 31,9 m2

Cooperative flat 113/E2 - Sold
1+kitchenette, 26,1 m2

Cooperative flat 114/E2 - Sold
1+kitchenette, 32,8 m2
i

You have chosen Residence U Šárky VI
Choose floor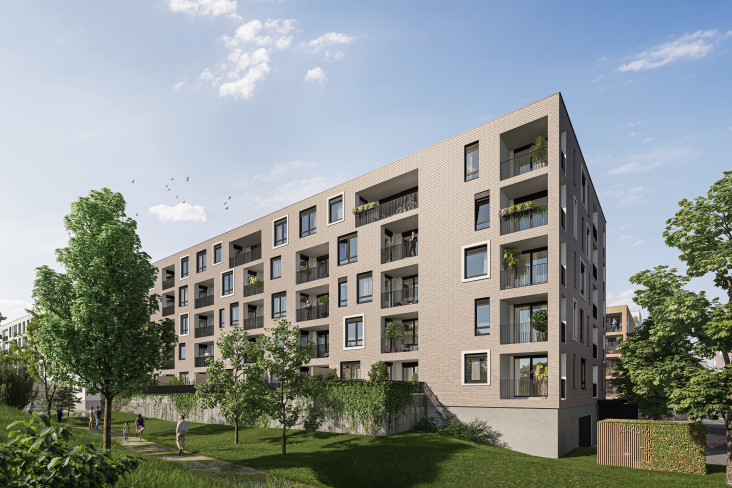 1st floor
2nd floor
3rd floor
4th floor
5th floor
Flat plan

Flat

Floor plan

Floor

Visualization
Cooperative flat 106/E2
Plan

Project

Floor

Orientation

E, N, W

Terrace

10,4 m2

Garage

Yes

The price of the garage parking place is not included in the total price of the apartment.

Storage room

Yes

The price of the utility room is not included in the total price of the apartment.
Ownership

Cooperative

Layout

4+kitchenette

Area

88,9 m2

Status

On sale, tentative reserved

Price inc. VAT

368 388 €

i

The listed prices do not include the garage parking space, the parking space outside of the garage and, as the case may be, a utility room and a cellar.
Funding opportunities
Rental

1 593 €i

Subject to a membership deposit of 20 %

Calculate the amount of your rent

By selling another property of yours
Add to My Selection
Remove from My Selection
Cooperative calculator
You can calculate an approximate value of your monthly rent quickly and easily thanks to our calculator.
Purchase price

€

Member's contribution share

Membership deposit

73 678 €

Interest rate

5.77 % p.a.

Due date

40 Years

Rent from

1 593 €
Calculation is only indicative.
Informations about the house
Timeless architecture with emphasis on preservation of the face of the surrounding original housing development
Sixth stage of Residence U Šárky
Total 68 flats in this stage with layout of 1+kitchenette (from 26 m2) to more spacious 4+kitchenette (108 m2)
Each apartment has loggia or front garden
68 garage spaces
Special three-year guarantee period
Barrier-free access
Energy efficiency class B
A jewel of Prague 6 in the immediate vicinity
Šárecké údolí is a valley and one of the real gems of Prague, which you will have in your immediate vicinity. You will be in paradise here, no matter if you prefer active relaxation or you just love beautiful nature. The huge area, stretching from the airport down to the Vltava River, is widely used for climbing, running, cycling, but also swimming, barbecuing, or various cultural events.
A great place from which you can get anywhere you want
In the U Šárky residence you will experience modern living, but above all a feeling of freedom and liberty. You can get on foot to Šárecké údolí, a valley also called Šárka, in just 7 minutes.
By the end of 2023, a tram stop will be completed as part of the project. The journey to the city center will then take approximately half an hour without transfers. Within a ten-minute walk, you can also reach Prague-Ruzyně train station, where the S lines stop.
It takes 3 minutes by car or bus to get to the Šestka Shopping Center. If you frequently travel abroad, you will appreciate the accessibility of the airport, which is only a 5-minute drive away. In the long term, the creation of a high-speed rail line from Prague to Kladno with a stop at Dlouhá míle near the project is planned.
One of the most sought after parts of the city
Beautiful countryside, iconic living, and countless places for sports and cultural activities. Prague 6 has long been one of the most sought-after city districts. This is due to the beautiful quarters consisting of residential buildings, gorgeous nature parks, renowned restaurants or the approach of the city district authority, which is not afraid to invest in great ideas of its inhabitants.
Clear your head and be in the countryside every day
Thanks to its natural beauty, vastness and interesting terrain, Šárecké údolí is popular with lovers of running and cycling. You can easily find a number paths with varying degrees of difficulty that will take you through beautiful countryside, where you can clear your head in a moment.
There is a rich network of bike paths that will take you for example to Karlštejn or Křivoklát castles. You should definitely not miss the beautiful cycling route along the creek called Šárecký potok. You can find specific tips for jogging paths directly on the Prague portal. Some of you may be surprised, but Šárecké údolí is also popular with lovers of mountaineering. The local climbing history stretches back over 100 years. If you are interested in this sport, be sure to check out the individual climbing routes and their degrees of difficulty.
Another attractive destination of walks is the nearby Hvězda game park with a unique Renaissance summer house and beautiful forest trails.
Swimming pool, barbecue spot, or opera
If you like to go swimming in the summer, then you will enjoy the atmosphere of a First Republic swimming pool. It has long been run by Veselík family, which carefully takes care of maintaining its atmosphere.
Another option for summer relaxation is to have a picnic with friends. For this purpose, you can use the official picnic and barbecue spot, which is just over a kilometre away from this place. Once a year, you can satisfy not only your stomach, but also the soul longing for culture. The city district of Prague 6 is holding an opera performance in Šárka, on the place of the former natural theatre.

Finance the purchase by selling another property
Do you need to finance purchase of a new property by selling another? We are ready to help you both with sale and all the related issues. Contact us with confidence.