Comfortable living in harmony
From the outside, the new apartments in the Nad Krocínkou project look discreet, but inside they have a modern layout and benefit from the latest construction methods and technologies.
The result is a sunny airspace in high quality. The ground floor with shops and services will be surrounded by a pedestrian zone. The project also includes the construction of another park area, which will functionally complement the nearby Friendship Park and the numerous tree lines that are so typical of Prosek.
The buildings are designed to be in harmony with the surroundings, while providing their residents with a standard of living that is adequate for the 21st century.
Fast transport connections in all directions
The transport accessibility of Prosek is absolutely unrivalled. The line C of Prague metro is a 7-minute walk from your new place of living.
Metro line B is only one bus stop away. Thanks to the connection to the Prague Ring road, you can reach the city centre in 15 minutes by car.
Your car, by the way, can have its permanent place for parking in the underground garage. Say goodbye to the daily struggle for a parking place.
At present, you can easily and quickly get to the D8 and D10 roads from Krocínka. The road to Kokořín area, Bohemian Paradise or Bohemian-Saxon Switzerland is open for you.
A real neighbourhood
Prosek of today combines everything a modern family will appreciate. It has a perfect and practical infrastructure and plenty of space for rest and leisure.
he locals won't hear a bad word against their Prosek. They especially appreciate the fast connection to the city centre and the outside of the city as well, the growing public greenery, and fine-tuned civic amenities. Of course there are shops, restaurants, schools of all levels, a fitness centre or even a clinic. However, there are also many conveniences nearby, such as a branch of the Municipal Library, an established second-hand bookstore or a self-service car wash.
In addition, many places of the so called Northern Terrace offer beautiful views of the city. For your walks you can for example use the natural monument Prosecké skály and Starý Prosek – a well-preserved village core with a rare church from the 11th century.
From the point of view of architects
"We like Prosek and we didn't want to change it", say the authors of the project from the DAM.architekti studio.
"At first glance, it is clear that the look of the house is a reflection of the environment in which it is located. The façade suggests some elements typical of the constructivist architecture of the neighbouring houses.
However, this is just a reminder, a nice transformation of the well-known ornament, which is complemented and the scale of the façade is softened by darkly lined façade segments with subtle balcony panels. The masses of the houses are simple and clean, there is only as much detail as needed.
Rest in a New Functional Park
The park will stretch from the intersection of Prosecká and Čakovická streets up to the new houses.
It will have over 29,000 square meters and will provide its visitors with several functions. We are considering creation of a combination of, for example, a dog meadow, a place for outdoor fitness, a children's playground and the like. We are currently consulting the final form with the city authorities.
In addition, a wide green belt with trees will stretch from the park along Čakovická Street, which will cast shadows over the buildings along the road.
We will help you to choose an apartment
Do you need help? Contact us, we are here for you.
...
Map legend
Flats Nad Krocínkou
Gas station
Shopping center
Restaurant
Park
Wine bar
Pharmacy
ATM
Elementary school
Sport areal
Children playground
Brewery
Metro station
Fitness
Bus stop
Kindergarten
High school
Café
Police station
Charging station
Your neighbourhood and the backdrop to your daily lives is important to us. We want you and your family, friends and neighbours to feel as at home here as possible so that you can enjoy life to the full.
Our magazine is full of information about life Nad Krocínkou – you can find out what plans are in the making, read accounts from past events or reviews of the local business we have visited.
Upcoming Events Calendar
See what events we are planning for you or we support in the coming days and come and spend the day with us to the fullest!
Unfortunately, we did not find any events.
Past events
We have experienced something with each of you, or maybe we will in the near future. Some of them went through the whole process of acquiring their housing with us or are just getting ready for it, others met with us at events that we organize for residents of our localities. We have prepared a short report of each of these events for you. See how you were enjoying them.
Unfortunately, we did not find any events.
Places we´ve visited
We decided to try what kind of lunch you can enjoy in the vicinity of your home, where you can go for a good dinner or just a favourite coffee, dessert or something little stronger. How did it end up? Read it for yourself.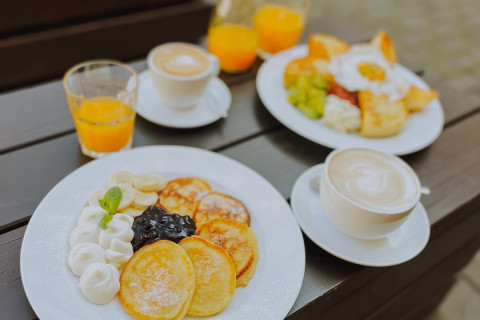 We visited: Pec nám spadla
20. 9. 2023 Pec nám spadla
If you are looking for a café and bakery with excellent sweet and savoury bread and pastry as well as excellent coffee, then you simply must try Pec nám spadla.