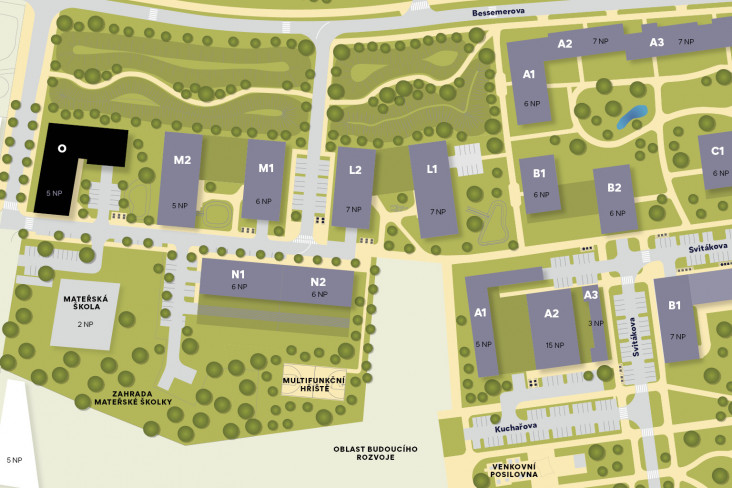 Britská čtvrť XI - cooperative
Byty Britská čtvrť XII
Stages

Video of locality

Video

Gallery of locality

Gallery
Specify selection
Stages
Flats Britská čtvrť XI - cooperative
Print pricelist
Order
from the lowest

from the lowest

from the highest

from the smallest area

from the biggest area

from the smallest layout

from the biggest layout

from the lowest floor

from the top floor
The individual prices are based on the rules specified with the individual properties on our website: www.finep.cz.
The individual discounts are based on the rules specified with the individual properties on our website: www.finep.cz.
We will help you to choose an apartment
Do you need help? Contact us, we are here for you.
Britská čtvrť is a residential project emerging within the new municipal district of Západní město in Prague 5 – Stodůlky.
Its excellent accessibility is demarcated by the well known thoroughfares Jeremiášova and Rozvadovská connecting road with the latter being connected to the Prague Circuit and the D5 highway to Pilsen. There is also an excellent access to the Ruzyně Airport and to the centre of Prague thanks to the B Metro line situated directly in the square.
Wide range of continuously developing services in the immediate neighborhood is a great part of the project. The site already includes Billa, the Kolkovna restaurant, Sushi bar, the DM drug store or a branch and ATM of Komerční Banka. It is located only 5-minute walk away from the Homepark shopping centre with such shops as Tesco, IKEA, Jysk, A3 sport, Takko Fashion, Datart, and others. It only takes 5 minutes by car to get to the Globus hypermarket, Makro hypermarket and petrol station, Baumax, Asko, Billa, or the Metropole Zličín shopping centre with a wide range of services, including cinema or the Albert supermarket.
Britská čtvrť is a part of the Západní město territory which has been developing since 2007 in a close vicinity of the Stodůlky Metro station. Britská čtvrť is an exceptionally successful project of a European quality with all its phases having been sold out already before the construction was completed and it thus represents not only a great choice of one´s own housing but also a safe investment solution. Residents can currently use new shops and services, relaxation zones and playground for both little and older ones.
Christmas tree lighting ceremony, or Advent at Finep

3. 12. 2019 ul. Svitákova a Klementova

Another great neighbours' meeting in Britská čtvrť on the occasion of lighting up the Christmas tree is behind us. Let's reminisce the event accompanied by a children's choir, mulled wine, and gifts for children.

The celebration of St. Martin's wines

18. 11. 2019 nám. Junkových

The cornerstone of the tradition of neighbours' meetings was laid just here. At the occasion of the tasting of St. Martin's wines which took place on 18 November in Britská čtvrť. And how did it go?
...
Map legend
Flats Britská čtvrť
Metro station
Bus stop
Doctor
Kindergarten
Elementary school
Municipality
Shopping center
Restaurant
ATM
Pharmacy
Post
Police station
Veterinary
Children playground
Sport areal