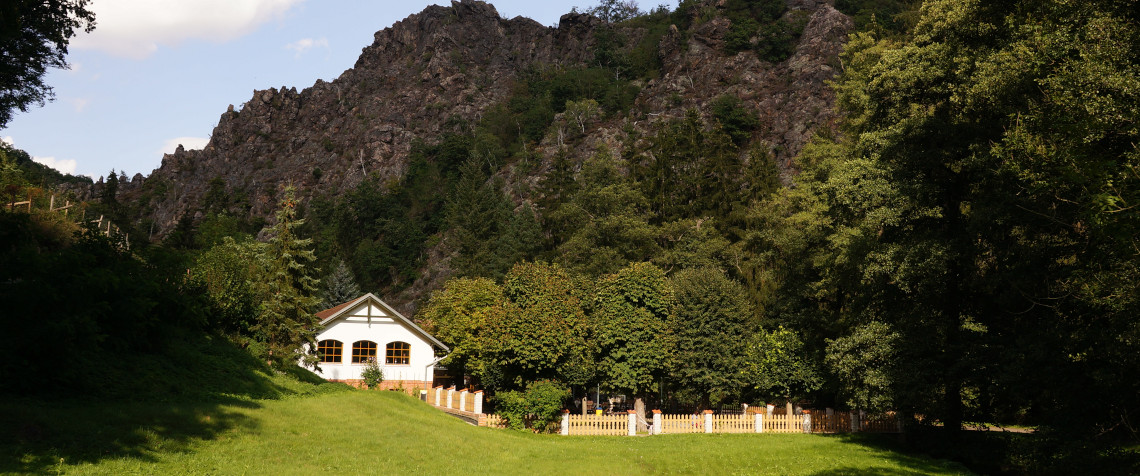 We visited: park Divoká Šárka
Doing Sports in Divoká Šárka? More extreme than you would expect…
Divoká Šárka, a nature reserve, is unique in itself for its natural beauty. And given its location close to the city centre, it becomes, especially for the inhabitants of Prague 6, a treasure of immense value. I dare say that really everyone can enjoy their time there, from mothers with prams to athletes longing for adrenaline.
Hardly anybody would have thought that someone could tremble with fear of heights and sweat on a hot lydite* in the peaceful Šárecké údolí. But try to raise your head and focus on its jagged ridges overgrown with lush greenery. Maybe you will be lucky enough to see some silver rivet or climbing bolt*.
It will probably surprise many climbers because the local rocks are simply not so attractive clean walls at first sight like in American Yosemite. On the contrary, you have to look quite carefully to find some climbing routes there. But despite a certain inaccessibility, it is definitely worth it. Climbing there has even a tradition of more than a century. There are climbing routes from the easiest to the most advanced (specifically the range of climbing grades 2-8+).
The main advantage is, of course, the proximity of the city, which gives you a great opportunity to go to climb out on a natural rock, instead of an artificial wall, and enjoy the views of the beautiful scenery of Šárecké údolí after work or after school. I myself gathered my first experience with rock climbing on the rock faces there and fell in love with that place. It's perfect for the very beginnings there, so I took the opportunity to take my younger brother with me, who doesn't climb that much, to offer him a taste of real rock. We enjoyed a beautiful sunny afternoon of the upcoming Indian summer and Šárka did not disappoint me either. And I hope not even my brother…
Annotation
*Lydite is a type of rock occurring in Divoká Šárka.
*Limbing bolt is a metal ring with a hanger drilled into the rock used for belaying during climbing.
WARNING: Climbing is a dangerous sport and should be practised only after acquiring certain knowledge and skills. Therefore, I recommend going to the rocks with someone more experienced, if you want to start, and ideally visit an artificial climbing wall beforehand. Especially in Divoká Šárka, it is necessary to be more careful, due to loose stones and lack of belaying.
More information about that climbing area can be found on the following websites:
-Lezec.cz
http://www.lezec.cz/pruvodcx.php?key=692
-Horosvaz.cz
https://www.horosvaz.cz/skaly-sektor-545/
Which way to the Divoká Šárka?
...
Map legend
Park
Residence U Šárky