Cooperative flat 120/A3
Cooperative flat 101/A2 - Sold
1+kitchenette, 34,5 m2

Cooperative flat 102/A2 - Sold
1+kitchenette, 36,7 m2

Cooperative flat 103/A2 - Sold
1+kitchenette, 34,2 m2

Cooperative flat 104/A2 - Sold
2+kitchenette, 53,3 m2

Cooperative flat 105/A2 - Sold
2+kitchenette, 53,4 m2

Cooperative flat 106/A2 - Sold
2+kitchenette, 52,9 m2

Cooperative flat 107/A2 - Sold
2+kitchenette, 52,9 m2

Cooperative flat 108/A2 - Sold
2+kitchenette, 53 m2

Cooperative flat 109/A2 - Sold
2+kitchenette, 52,9 m2

Cooperative flat 110/A2 - Sold
2+kitchenette, 52,8 m2

Cooperative flat 111/A3 - Sold
2+kitchenette, 52,9 m2

Cooperative flat 112/A3 - Sold
2+kitchenette, 53,9 m2

Cooperative flat 113/A3 - Sold
2+kitchenette, 52,8 m2

Cooperative flat 114/A3 - Sold
2+kitchenette, 53,7 m2

Cooperative flat 115/A3 - Sold
2+kitchenette, 53,7 m2

Cooperative flat 116/A3 - Sold
2+kitchenette, 52,8 m2

Cooperative flat 117/A3 - Sold
2+kitchenette, 52,9 m2

Cooperative flat 118/A3 - Sold
2+kitchenette, 53,1 m2

Cooperative flat 119/A3 - Sold
2+kitchenette, 52,8 m2

Cooperative flat 120/A3 - On sale
1+kitchenette 38,9 m2
156 961 €

Cooperative flat 121/A3 - Sold
3+kitchenette, 78,7 m2
i

You have chosen Residence U Šárky III
Choose floor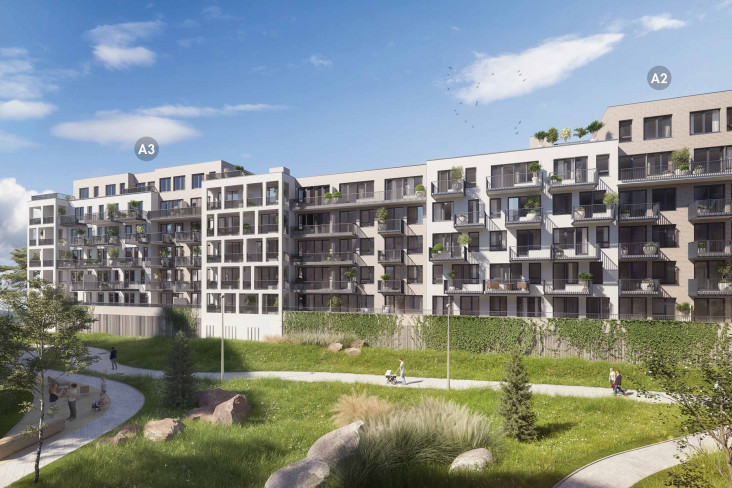 1st floor
2nd floor
3rd floor
4th floor
5th floor
6th floor
Flat plan

Flat

Floor plan

Floor

Interiors

Architecture
Cooperative flat 120/A3
Plan

Project

Stage

Floor

Orientation

W

Terrace

7,3 m2

Garage

Yes

The price of the garage parking place is not included in the total price of the apartment.
Ownership

Cooperative

Layout

1+kitchenette

Area

38,9 m2

Status

On sale, tentative reserved

Price inc. VAT

156 961 €

i

The listed prices do not include the garage parking space, the parking space outside of the garage and, as the case may be, a utility room and a cellar.
Get a new place of living from the safety of your home
We have prepared a full-fledged alternative to face-to-face meetings, but over the Internet. We call it e-Meeting. During e-Meeting, our sales person will contact you via phone call and share with you all the essential information and documents using our new on-line application just as you would be present in a personal meeting.
Funding opportunities
Rental

512 €i

Subject to a membership deposit of 20 %

Calculate the amount of your rent

By selling another property of yours
Add to My Selection
Remove from My Selection
Cooperative calculator
You can calculate an approximate value of your monthly rent quickly and easily thanks to our calculator.
Purchase price

€

Member's contribution share

Membership deposit

31 392 €

Interest rate

2.70 % p.a.

Due date

30 Years

Rent from

512 €
Calculation is only indicative.
Informations about the house
Timeless architecture with emphasis on preservation of the face of the surrounding original housing development
First stage of Residence U Šárky
Total 102 flats in this stage with layout of 1+kitchenette (from 34,1 m2) to more spacious 4+kitchenette (118,3 m2)
Special three-year guarantee period
Barrier-free access
Higher standard of equipment ensuring comfort and security of residents
Energy efficiency class B
Architects: AIP Architekti, Ing. arch. Jaroslav Kačer
A jewel of Prague 6 in the immediate vicinity
Šárecké údolí is a valley and one of the real gems of Prague, which you will have in your immediate vicinity. You will be in paradise here, no matter if you prefer active relaxation or you just love beautiful nature. The huge area, stretching from the airport down to the Vltava River, is widely used for climbing, running, cycling, but also swimming, barbecuing, or various cultural events.
A great place, from where you can get to any place you
In the U Šárky residence you will experience modern living, but above all a feeling of freedom and liberty. You can get on foot to Šárecké údolí, a valley also called Šárka, in just 7 minutes. Thanks to the nearby underground A station – Veleslavín – you will be on Václavské náměstí (Wenceslas Square) within 30 minutes. And you can get to OC Šestka shopping centre in 3 minutes by car or bus. The nearby Prague-Ruzyně train stop provides you with an alternative to comfortable travelling. From there, trains depart in the direction of Hostivice or Veleslavín and Hradčanská stations. At these stations you can then simply change to metro station A. If you spend a lot of time by travelling abroad, you will surely appreciate availability of the airport, which you can reach in 5 minutes by car.
One of the most sought after parts of the city
Beautiful countryside, iconic living, and countless places for sports and cultural activities. Prague 6 has long been one of the most sought-after city districts. This is due to the beautiful quarters consisting of residential buildings, gorgeous nature parks, renowned restaurants or the approach of the city district authority, which is not afraid to invest in great ideas of its inhabitants.
Connecting housing and countryside
Enjoy the unique wooded area under your windows, which will naturally connect to the picturesque valley of Divoká Šárka nature park.

Finance the purchase by selling another property
Do you need to finance purchase of a new property by selling another? We are ready to help you both with sale and all the related issues. Contact us with confidence.