What will be the life in Pergamenka?
The warp and woof of the new housing in the Pergamenka Residence project is the exclusive use of quality materials and the best accessories.
The project has particularly in mind the comfort of its future residents inside and outside as well. In addition to preservation of the structure of the former warehouses the newly created unique area of the inner courtyard will add works of art, water features, and places for sitting and relaxing.
The architects Prokop Tomášek and Jan Rosický from the A69 Architecture Studio stand behind the unique interconnection of the industrial and housing functions in this project.
Living in a high standard
Light room with large windows, a wide selection of various floor coverings, private terrace, balcony or loggia, which invite you to sit in the evening. Thanks to the outdoor sun-shading blinds you have enough privacy and dark in the evening. Fresh air will be provided in all rooms without long ventilation thanks to a recuperation system that will deliver clean filtered air to the apartments. Your security will be ensured by the chip system for entering the house and the common areas, and the garage will be supervised by a camera system.
Find your place for living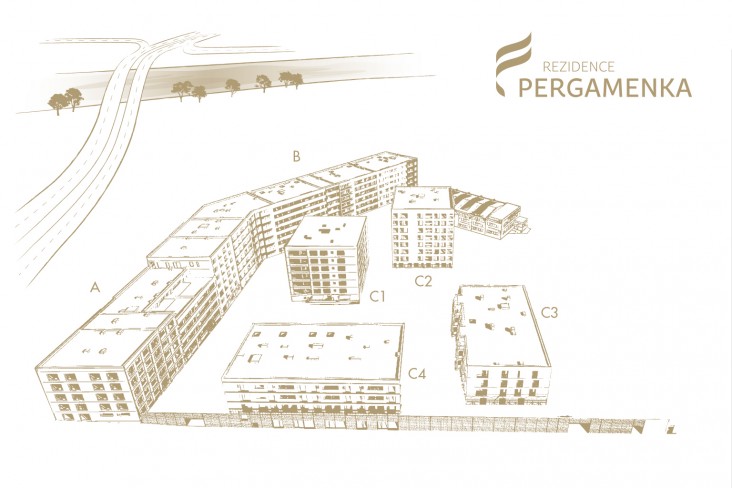 Interiéry

Architektura

Architektura

Vnitroblok

Vnitroblok

Fotografie okolí

Okolí
There are no results for the entered parameters. Please try to modify them.
Would you also like to live in Pergamenka?
One thing is certain. Pergamenka will offer its residents a very high standard of living with respect to the situation in the whole Prague and will also provide a great investment for the future.
Today, the Prague real estate market cannot offer such high-quality projects, and waiting usually does not pay off.
We can give you advice when selecting your apartment
Do you need our help? Contact us. We are here for you.