Pricelist - flats Pergamenka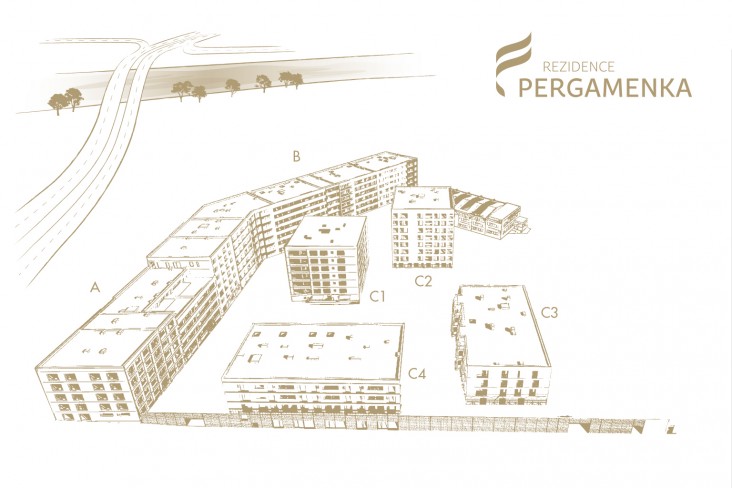 Architecture

Inner courtyard

Courtyard

Neighborhood
There are no results for the entered parameters. Please try to modify them.
We will help you to choose an apartment
Do you need help? Contact us, we are here for you.
Abundant services
We create a space where you can enjoy your breakfast in your favourite coffee-house, spend evening with a real gastronomic experience in a finest restaurant or have a drink with your friends in a bar. And you will surely appreciate the vicinity of a school, kindergarten, playgrounds, and a pharmacy or grocery shop in your everyday life. Welcome in Pergamenka in Holešovice district of Prague. In a place, where you would love to live.
Perfect accessibility
Now you have everything at hand. It takes you only 1 minute to a bus stop, 2 minutes to a tram and within 6 minutes only you can get on a train or underground. On foot of course. And it's still not the best. The best is that you are already in the city centre. You can take underground and get off at Florec, Main Station or Museum within several minutes.
Art of relaxation
Pergamenka offers its residents relaxation for their body and mind. The newly created area of the inner courtyard will form a combination of an industrial atmosphere, mainly thanks to steel constructions of the former warehouses supplemented with works of art, water features, and places to sit and relax. The surrounding area offers a fitness centre, cycle path, swimming pool, newly revitalised city park Stromovka, and of course museum and gallery as representatives of culture.
Holešovice, it is new Karlín
Previously neglected working-class locality is changing before your eyes into one of the most stylish Prague's quarters. Be there and in time, until the place with Karlín-style will also be expensive as Karlín.
You can live in a town quarter, from where you can walk to your favourite coffee-house, snack bar, restaurant or shop. In the place, where you can spend weekends with your family or friends – go into a park, visit a museum or gallery and finish the day with a drink in a bar, just several steps from your apartment.
All of these and more. This is Holešovice, your new home.
Quality and design
The basis of every high-quality living is utilisation of the best materials and accessories. The Rezidence Pergamenka project has particularly in mind the comfort of its future residents inside and outside as well. In addition to preservation of the structure of the former warehouses, the newly created unique area of the inner courtyard will add works of art, water features, and places for sitting and relaxing.
Prokop Tomášek and Jan Rosický, the architects of the architectural studio A69 are behind the quality and unique example of a combination of industrial and housing functions.
With respect to the history of this place
The basic philosophy of the whole project is to follow the nature of the original urban buildings of Holešovice with reference to the rich history of the former warehouse facilities in Ferona premises. The project will, among others, preserve and refurbish the original building of a store, in which you will find the Wine Food snack bar and a fitness centre.
The genius loci of the whole building will be intensified by a public area composed of a park with a revitalised steel skeleton of former warehouse buildings. Thus, it will form a unique concept of an industrial garden that will naturally supplement the modern architecture of the whole project.
Read more about Pergamenka
...
Map legend
Pergamenka residence
Bus stop
ATM
Restaurant
Tram stop
Pharmacy
Hairdresser
Sport areal
Police station
Metro station
High school
Shopping center
Children playground
Elementary school
Aquapark
Train station
University
Gas station
Parking
Doctor
Kindergarten
Your neighbourhood and the backdrop to your daily lives is important to us. We want you and your family, friends and neighbours to feel as at home here as possible so that you can enjoy life to the full.
Our magazine is full of information about life in Pergamenka – you can find out what plans are in the making, read accounts from past events or reviews of the local business we have visited.
Places we´ve visited
We decided to try what kind of lunch you can enjoy in the vicinity of your home, where you can go for a good dinner or just a favourite coffee, dessert or something little stronger. How did it end up? Read it for yourself.