Living in the heart of Holešovice gets new hallmark
Holešovice is becoming an increasingly attractive place to live in. This district of Prague now stands on the threshold of golden years, just as Karlín once did.
Dreams will turn into reality soon and Holešovice will receive new original services and new places for living, including interesting public spaces that predict a great future for this place. Let's take a look.

How will Pergamenka change Holešovice
The architects Prokop Tomášek and Jan Rosický from the A69 architectural studio stand behind this combination of industrial and housing functions; they are responsible for the successful SmíchOFF/ON, Villa Park Strahov, and other projects. See the entire portfolio of A69 studio.
Preparations for a new concept of the space after the original halls of Ferona was a mountain to climb. Even greater effort was devoted to every detail so that the whole works great for all residents and its immediate neighbourhood. The most important factors also included the greenery, passable ways through the area, formation of public places, new and high-quality services, and the natural follow-up of the site's history.
Green Pergamenka
The importance of greenery in a place where people live is undisputed. In addition to cooling and improving the climate during the increasingly hot summer months, it helps the mind to relax, especially in a city. This place suffered from the absence of greenery in the past. In this sense, Pergamenka will offer a huge change that will include greenery even on the roofs of buildings. Thanks to this, incredible 41.7% of the area will be covered by greenery.
We will plant hundreds of trees as part of this greenery. We have prepared an exact overview for you in our Herbarium of the Green Pergamenka. We believe that the whole place will literally burst into flowers.
Passable ways through the are
In our efforts to preserve the traditional urban conception of Holešovice, i.e. block housing with courtyards, we also considered the needs of people from the neighbourhood who would like to walk through Pergamenka, for example, to Jankovcova bus stop or to Nádraží Holešovice underground station.
That is why we have created a passage directly below the house B, which will allow quick passage through the area just to Jankovcova bus stop and in addition to that we created two passage corridors, one between houses A and C4, the other one next to house C3 to Vrbenského Street.
New and high-quality services
Another factor that has a major impact on quality of life in that place is services. This topic is a priority for us wherever we build houses. Over the decades we have been in this field, we have created a proven model in which we remain the owners of commercial premises and we actively take care of renting them to offer local residents the services they need. At the same time, we are able to oversee the quality of these services. Thus, Pergamenka will be able to offer its commercial tenants 21 commercial premises with the total area of more than 1,150 m2. Selected commercial promises are already designed for standardized services such as food stores, cafeterias, restaurants, wine shops, hairdressers, beauty salons, and others.
In addition, a refurbished cultural landmark – the original Ferona store building – will offer a special commercial space with the great Wine Food Market and a fitness centre for sports-loving inhabitants.
New open public spaces
In addition to preservation of the structure of the former warehouses the newly created unique area of the inner courtyard will add works of art, water features, and places for sitting and relaxing. The dominating feature of the public space will be a square bounded by an industrial garden on one side and by newly refurbished building of Ferona store on the other one. The goal is to create a pleasant place that will encourage you to stop, sit, and relax.
With respect to the history of this place
The basic philosophy of the whole project is to follow the nature of the original urban buildings of Holešovice with reference to the rich history of the former warehouse facilities in Ferona premises. The project will also preserve and repair the original building of the store, which has recently become a cultural monument. We are already working on restoring the structure, which will return to its place and allow for the installation of special lighting, which will be beautifully complemented by the typical tiles called "Prague mosaic", which we want to use for paving most of the walkways. The typical brick walls to which the locals were accustomed will also be preserved and refurbished.
A project worked out to the smallest detail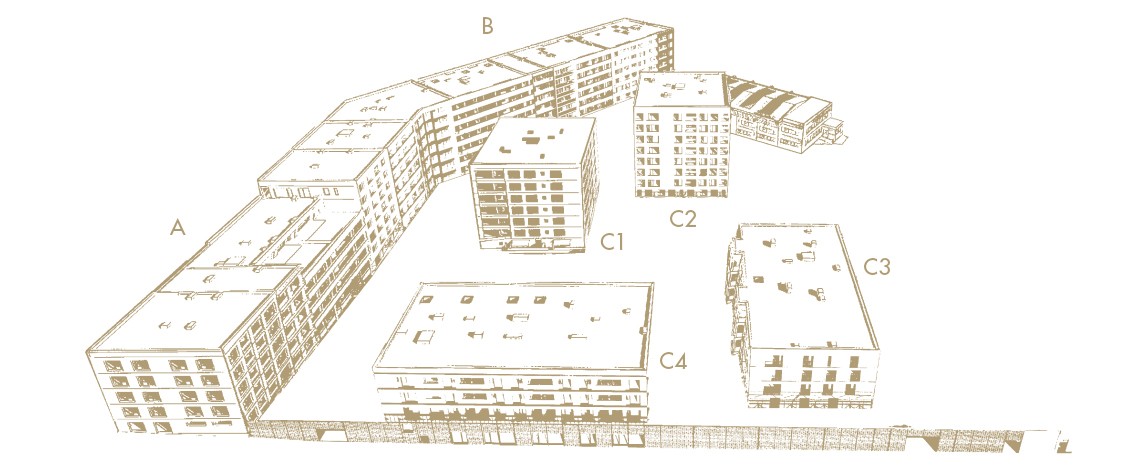 Lots of fresh air

We thought about the health of the residents in Pergamenka and its surroundings. We will plant hundreds of trees in the area. Trees with full range of colours from spring to winter. Above all, they will bring plenty of oxygen to the air. The park's pathways will be beautified by perennials, climbing plants, and hedges. Even the roofs will turn into green, because we will plant 24 plant species on them. A total of 41.7% of Pergamenka's area will be covered by greenery.

See the Herbarium of Green Pergamenka.

Services – the basis of your life

We carefully choose our tenants so that we can cover all the services that they want, need and wish. We create a space where you can enjoy your breakfast in your favourite coffee-house, spend evening with a real gastronomic experience in a luxury restaurant or have a drink with your friends in a bar.

With respect to the history of this place

The genius loci of the whole building will be intensified by a public area composed of a park with a revitalised steel skeleton of former warehouse buildings. Thus, it will form a unique concept of an industrial garden that will naturally supplement the modern architecture of the whole project. You will be enchanted by romantic atmosphere thanks to the dim lights in the evening, and decorative water features or a unique steel (the same was used for construction of the famous Eiffel Tower) will attract you during day.
...
Map legend
Pergamenka residence
Bus stop
ATM
Restaurant
Tram stop
Pharmacy
Hairdresser
Sport areal
Police station
Metro station
High school
Shopping center
Children playground
Elementary school
Aquapark
Train station
University
Gas station
Parking
Doctor
Solarium
Kindergarten
Would you also like to live in Pergamenka?
One thing is certain. Pergamenka will offer its residents a very high standard of living with respect to the situation in the whole Prague and will also provide a great investment for the future.
Today, the Prague real estate market cannot offer such high-quality projects, and waiting usually does not pay off.
We can give you advice when selecting your apartment
Do you need our help? Contact us. We are here for you.
Find your place of living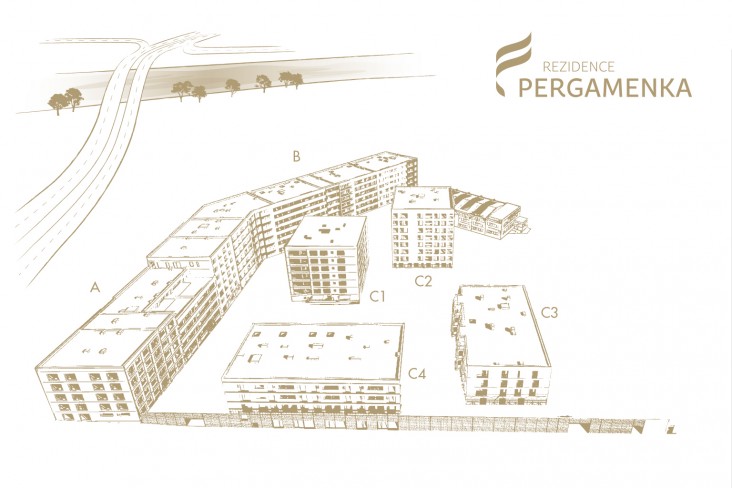 Interiors

Architecture

Inner Courtyard

Courtyard

Neighborhood
There are no results for the entered parameters. Please try to modify them.