Herbarium of Green Pergamenka
The importance of greenery in a place where people live is undisputable. In addition to cooling and improving the climate during the increasingly hot summer months, it helps the mind to relax, especially in a city.
This place suffered from the absence of greenery in the past. In this sense, Pergamenka will offer a huge change that will include greenery even on the roofs of buildings. Thanks to this, incredible 41.7% of the area will be covered by greenery. We will plant 76 trees and another 24 plant species in total will be planted. Let's go to see how will Pergamenka come into blossom.
American sweetgum (Liquidambar styraciflua)
29 pcs
Sweetgum is one of the most ornamental trees and is also one of the most resistant to the sun and frost. Star-shaped leaves resemble maple in appearance, but have additional advantages compared to them, one of which is the beautiful autumn colour of the leaves (yellow or purple) and the beautiful round and spiny fruits. This tree comes from North America, which is an ideal advertisement for use in our climatic conditions, it will cope both with full sunshine and low winter temperatures.
Red Maple (Acer rubrum)
27 pcs
The leaves of these maple trees are small works of art of the nature. They resemble a palm and abundantly cover the entire tree. Red maple is characterized by medium-sized, shiny leaves of green colour in summer. At the beginning of autumn, it suddenly turns into combination of deep orange and brilliant red, while the leaves on the sheltered side of the tree still remain partially green. However, it turns red soon and remains in its attractive bright crimson colour until mid-November. Maples are very decorative even after their leaves have fallen thanks to their very delicate branches.
Tulip tree "fastigiata" (Liriodendron tulipifera)
6 pcs
Tulip tree, sometimes also fiddle tree flowers from very early age. Its green-yellow flowers with yellowish stamens are shaped like small tulips and resemble a lyre. Large, deep green leaves look exotic and can definitely attract the passer-by's attention.
Macedonian pine (Pinus peuce)
14 pcs
A very interesting and often underrated species is the Macedonian pine originating in Balkan Mountains. It can successfully grow on diverse types of subsoil and belongs among resistant five-needle species. Its needles are dark green and silvery white on the underside. Huge cones with small seeds grow on the branches from below. Another advantage of this tree is that it can naturally rejuvenate itself.
Clematis tangutica
132 pcs
It welcomes spring with elegance and grace. Clematis tangutica is in bloom already at the end of winter or at the early spring as one of the few climbers. The tree is typical for its distinctive yellow bell-shaped flowers. Even after full bloom it is beautiful thanks to downy decorative fruits.
Common hop (Humulus lupulus)
103 pcs
It is a favourite plant of beer drinkers with green-yellow leaves and aromatic hop cones that flower in autumn.
Mountain clematis (Clematis montana "Grandiflora")
89 pcs
With its large white flowers, the green-leaved climbing plant conjures up many smiles on the face of passers-by.
Trumpet vine (Campsis radicans "Flava")
76 pcs
Very durable plant that does not mind even greater frosts. Impressive yellow tubular flowers make an impression by their unusual appearance.
Scarlet firethorn (Pyracantha coccinea)
53 pcs
This interplay of colours in the form of dark-green leaves and contrasting red fruits can provide both beautiful spectacle and more privacy. In addition to that, its fruits remain nicely decorative during winter, while clusters of white flowers come into bloom in spring.
Feather reed grass (Calamagrotis ´Overdam)
The grey-green ornamental grass with white striped leaves, growing in bunches, resists even the most frosts, and at the same time looks very elegant when covered with snow. Its leaves turn yellow in the fall and during the summer it blooms with fluffy mauve panicles that remain in beige after full bloom until spring.
Agrimonia eupatoria
Anthoxanthum odoratum
Anthyllis vulneraria
Thymus vulgaris
Dianthus carthusianorum
Dianthus deltoides
Festuca rubra
Festuca rupicola
Galium album
Hieracium sabaudum
Hypericum perforatum
Koeleria pyramidata
Leontodon hispidus
Origanum vulgare
Potentilla argentea
Prunella vulgaris
Sanguisorba minor
Stachys recta
Sedum acre
Sedum album
Sedum hybridum
Sedum reflexum
Sedum sexangulare
Sedum spurium
Would you also like to live in Pergamenka?
One thing is certain. Pergamenka will offer its residents a very high standard of living with respect to the situation in the whole Prague and will also provide a great investment for the future.
Today, the Prague real estate market cannot offer such high-quality projects, and waiting usually does not pay off.
We can give you advice when selecting your apartment
Do you need our help? Contact us. We are here for you.
Find your place for living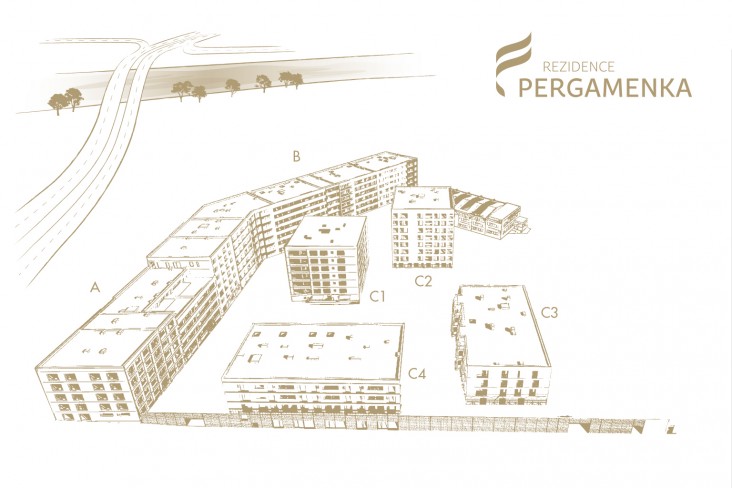 Interiéry

Architektura

Architektura

Vnitroblok

Vnitroblok

Fotografie okolí

okolí
There are no results for the entered parameters. Please try to modify them.