Cooperative flat 202/H6
Cooperative flat 201/H6 - On sale
4+kitchenette 108,4 m2
542 302 €

Cooperative flat 202/H6 - On sale
1+kitchenette 31,4 m2
190 885 €

Cooperative flat 203/H6 - Sold
2+kitchenette, 55,4 m2

Cooperative flat 204/H6 - Sold
2+kitchenette, 55,7 m2

Cooperative flat 205/H6 - Sold
2+kitchenette, 55,2 m2

Cooperative flat 206/H6 - Sold
3+kitchenette, 88,7 m2

Cooperative flat 207/H6 - Sold
3+kitchenette, 88,7 m2

Cooperative flat 208/H6 - Sold
2+kitchenette, 55,1 m2

Cooperative flat 209/H6 - Sold
2+kitchenette, 55,1 m2

Cooperative flat 210/H6 - Sold
2+kitchenette, 55,5 m2

Cooperative flat 211/H6 - On sale
4+kitchenette 102,6 m2
514 747 €

Cooperative flat 212/H6 - Sold
3+kitchenette, 84,1 m2
i

You have chosen Malý háj XI
Choose floor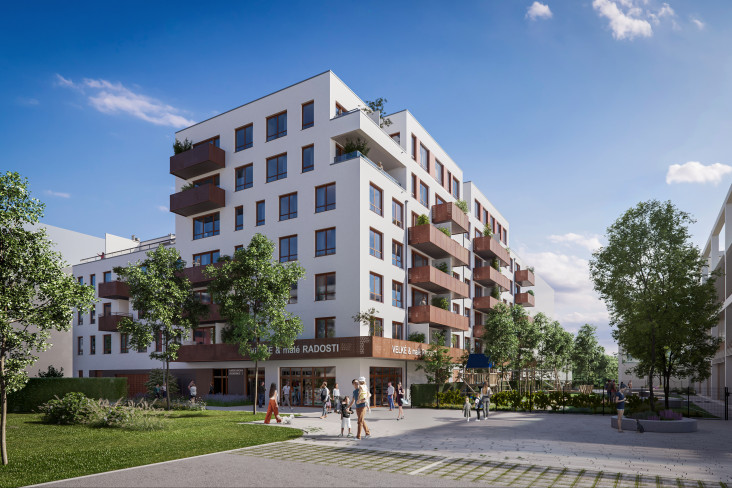 1st floor
2nd floor
3rd floor
4th floor
5th floor
6th floor
Flat plan

Flat

Floor plan

Floor

Architecture

Architecture

Interiors

Interiors

Model flat
Cooperative flat 202/H6
More than 75 % sold
Construction started
Plan

Project

Stage

Floor

Orientation

S

Balcony

4,5 m2

Garage

Yes

The price of the garage parking place is not included in the total price of the apartment.
Ownership

Cooperative

Layout

1+kitchenette

Area

31,4 m2

Status

On sale, tentative reserved

Price inc. VAT

190 885 €

i

A garage or parking space must be purchased for each flat. The listed prices do not include the garage parking space, the parking space outside of the garage and, as the case may be, a utility room and a cellar.
Funding opportunities
Rental

847 €i

Subject to a membership deposit of 20 %

Calculate the amount of your rent

By selling another property of yours
Add to My Selection
Remove from My Selection
Cooperative calculator
You can calculate an approximate value of your monthly rent quickly and easily thanks to our calculator.
Purchase price

€

Member's contribution share

Membership deposit

38 177 €

Interest rate

5.97 % p.a.

Due date

40 Years

Rent from

847 €
Calculation is only indicative.
Cooperative housing
The most favorable financing on the market
Similarly to the properties or flats in personal ownership, when buying a property in form of cooperative housing, the buyer needs to dispose of 20 % of the full value of the property or flat. However, there is no need for the buyer to take a mortgage to cover the remaining part of the full value of the property or flat, because the cooperative takes over the loan in this form of ownership and the buyer of the property or flat is then paying a monthly installments to the cooperative. The interest which is paid by cooperative is currently lower than in case of mortgage. In addition to that, as a member of the cooperative, you can divide your installments up to 40 years which is by a quarter longer than in case of mortgage. Thanks to that, the final monthly installment is significantly more acceptable than anywhere else on the market.
Phase XI of the Malý háj residential project
Malý háj XI is formed by one residental house
There is 65 new apartments in each house, with the layouts of 1+kitchenette (from 31 m2) to more spacious 4+kitchenette (up to 120 m2) being built
Each of the apartments has its balcony, loggia, or terrace
103 parking spaces in underground garages
Excellent accessibility to public transport (4-minute walk to bus stop) and connection to Prague's access roads
Special 3-year warranty
Energy efficiency class B– relates to all apartments in this phase
Architect: AHK ARCHITEKTI, s.r.o., Project designer: BUILDING, s.r.o.
The successfully developing residential quarter between Štěrboholy and Dolní Měcholupy is a modern locality of many possibilities. And not only due to the combination of the really near nature, the accessibility of many services, the problem-free connection to the "South Connecting Road" and the arterial roads for Mladá Boleslav and Hradec Králové, but also due to the comprehensive modern architecture. There are beautiful nature parks, Hrušov and Říčanka, waiting literally "round the corner", including Prague cycle tracks. Modern "shopaholics" will certainly be pleased with the vicinity of Europark, a large shopping centre, and Fashion Arena.
Malý háj phase XI is formed by one residential house. Sixty-two new flats in each building, from 1+kk to 4+kk (where "kk" means a kitchenette area), will be created at stage 7 of this residential project. All owners of a flat in this residential house will certainly be pleased with the possibility of enjoying a balcony, terrace or enclosed balcony every day. Families can enjoy modern and safe playgrounds. The problem-free accessibility of the centre of the capital will be ensured by municipal public transport, where a bus stop is a four-minute walk away and the Metro Line A – Depo Hostivař stop or a tramway line stop is not more than 10 minutes away. In the future the transport services of the Malý háj locality will be even better due to the planned tramway line that is now in the project preparation phase.
Bank financing this stage:
Finance the purchase by selling another property
Do you need to finance purchase of a new property by selling another? We are ready to help you both with sale and all the related issues. Contact us with confidence.