Flat 611/J4
Flat 601/J3 - Sold
2+kitchenette, 55,7 m2

Flat 602/J3 - Sold
1+kitchenette, 34,2 m2

Flat 603/J3 - Sold
2+kitchenette, 53,3 m2

Flat 604/J3 - Sold
4+kitchenette, 112,1 m2

Flat 605/J3 - Sold
3+kitchenette, 97,5 m2

Flat 606/J3 - Sold
4+kitchenette, 118,5 m2

Flat 607/J4 - Sold
3+kitchenette, 73,9 m2

Flat 608/J4 - Sold
2+kitchenette, 55,5 m2

Flat 609/J4 - Sold
3+kitchenette, 94,9 m2

Flat 610/J4 - Sold
4+kitchenette, 119,9 m2

Flat 611/J4 - On sale
4+kitchenette 116,7 m2
465 543 €
i

You have chosen Britská čtvrť XII
Choose floor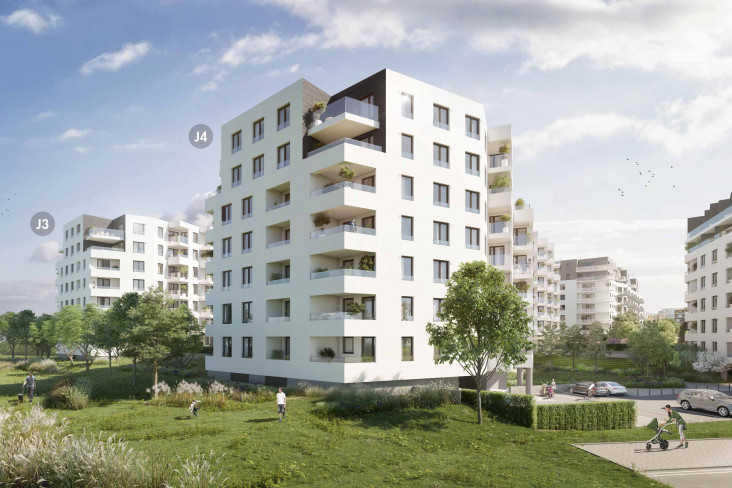 1st floor
2nd floor
3rd floor
4th floor
5th floor
6th floor
7th floor
Flat plan

Flat

Floor plan

Floor

Interiors

Model flat

Architecture
Flat 611/J4
Plan

Project

Floor

Orientation

N, W

Terrace

54,8 m2

Garage

Yes

The price of the garage parking place is not included in the total price of the apartment.

Storage room

Yes

The price of the utility room is not included in the total price of the apartment.
Ownership

Personal

Layout

4+kitchenette

Area

116,7 m2

Status

On sale, tentative reserved

Price inc. VAT

465 543 €

i

The price of the apartment unit is valid subject to the employment of a 90/10 payment schedule. Should a different manner of payment be employed, the price shall be agreed with the client individually. The listed prices do not include the garage parking space, or storage room or cellar.
Get a new place of living from the safety of your home
We have prepared a full-fledged alternative to face-to-face meetings, but over the Internet. We call it e-Meeting. During e-Meeting, our sales person will contact you via phone call and share with you all the essential information and documents using our new on-line application just as you would be present in a personal meeting.
We'll help you to finance your property
With a mortgage with instalments starting from

1 356 €i

Monthly at LTV 20 % and 30 years maturity, calculation is only indicative.

Calculate your installments

By selling another property of yours
Add to My Selection
Remove from My Selection
Calculate the amount of your instalments
You can calculate an approximate value of your monthly mortgage instalment quickly and easily thanks to our calculator.
Item price

€

Own capital

93 109 €

Fixation period

5 Years

Time of repayment

Interest rate from

1.89 % p.a.

Installment from

1 356 €
This calculation is only indicative and applies for own resources amounting to 20 % or 80% LTV. For an exact calculation based on individual requirements and parameters contact our financial specialists. The calculation has been drawn up based on a real estate price determined according to the schedule of payments 90/10.
Residential project with an exceptional architecture
Britská čtvrť stage XII is formed by two residential houses
100 apartments from 1+kitchenette (36 m2) to 4+kitchenette (119 m2)
Special 3-year warranty
Barrier-free access
Parking in undergound garages
Higher equipment standards ensure comfort and security of residents
Excellent accessibility to public transport (1-minute walk to Metro station) and connection to Prague's access roads
Energy efficiency class B– relates to all apartments in this phase
Architect: ADR, s.r.o., Project designer: BUILDING, s.r.o.
Britská čtvrť is a residential project emerging within the new municipal district of Západní město in Prague 5 – Stodůlky. The twelve stage of this project offers 100 new apartments.
Wide range of continuously developing services in the immediate neighborhood is a great part of the project. The site already includes Billa, the Kolkovna restaurant, Sushi bar, the DM drug store or a branch and ATM of Komerční Banka. It is located only 5-minute walk away from the Avion shopping centre with such shops as Tesco, IKEA, Jysk, A3 sport, Takko Fashion, Datart, and others. It only takes 5 minutes by car to get to the Globus hypermarket, Makro hypermarket and petrol station, Baumax, Asko, Billa, or the Metropole Zličín shopping centre with a wide range of services, including cinema or the Albert supermarket.
Finance the purchase by selling another property
Do you need to finance purchase of a new property by selling another? We are ready to help you both with sale and all the related issues. Contact us with confidence.