Pergamenka regained its typical steel structure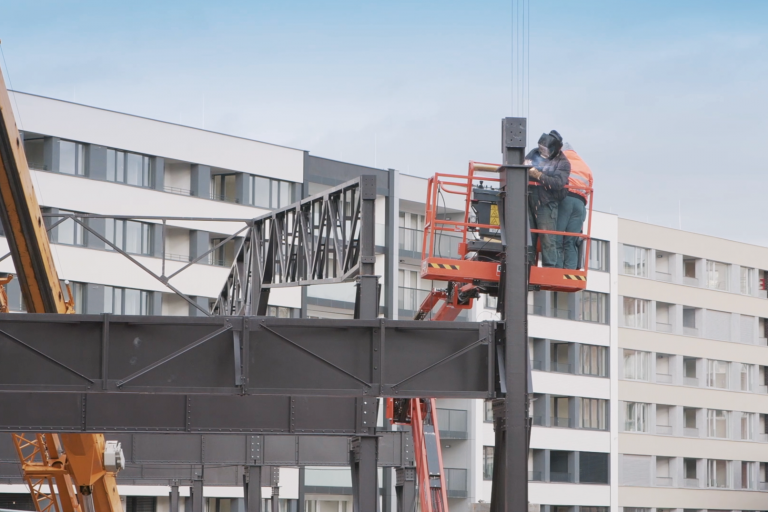 Pergamenka regained its typical steel structure
In recent weeks, the rare steel structure has returned to the vicinity of Jankovcova and U Pergamenky streets, where the largest warehouses with metallurgical materials once stood. It will no longer hold the old warehouse, but will frame the industrial garden of the new residential area in Pergamenka.
Ferra, the wholesale warehouses with metallurgical material, later called Ferona, were established in the vicinity of today's Ortenovo Square in 1929 and with its 15 thousand square meters they were the largest in what was then Czechoslovakia. According to the period press at that time, 2,000 wagons of material could fit in them.
FINEP took over the former industrial area in 2016 as a brownfield. The architects from the A69 studio were set to a challenge of designing a modern urban housing for this area, which, however, will remain to be connected with the industrial history of Holešovice.
The construction of the main hall, which could be re-used for the new project, proved to be the perfect element to play the role of the "connecting material". We dismantled the warehouse skeleton in 2018 and stored it safely. Usable fragments, mainly columns and crane tracks, were sand-blasted and painted. The parts we had to buy as new ones were made as historical replicas.
At the beginning of this year, we installed the steel parts back into the complex in the form of a decorative exterior structure, which will frame the new permeable courtyard. Fragments around A and B buildings were the first to appear; others will come later after completion of C buildings. The old iron will gradually become overgrown by hundreds of new plants, shrubs and trees, and the whole area will be used for sitting and resting.
You can watch the video from the installation here.
Here you can read about our plans with Pergamenka.
The industrial garden will be connected to a smaller preserved part of the former warehouses in U Pergamenky Street. The historic store building is awaiting for its restoration.
We will describe what it will look like in the end here.
Visualization of the future industrial garden:
28. 2. 2022