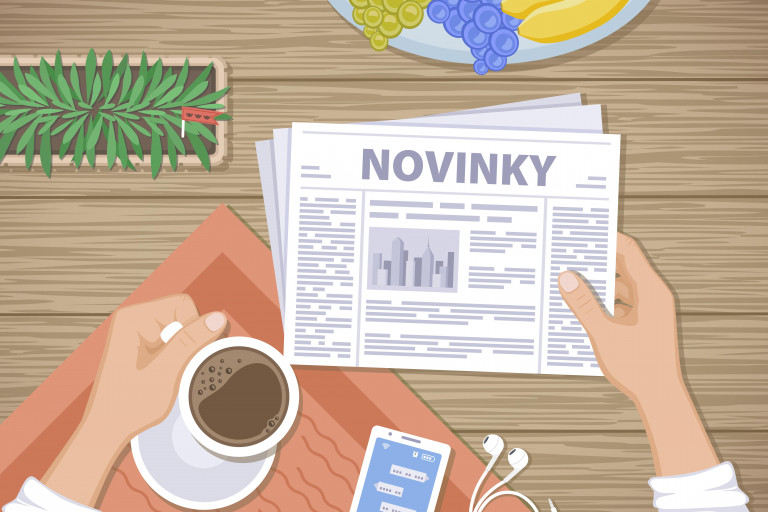 Check out how we've done, what we've organized, our new openings, and the projects we supported.
July
Landscape festival
This year we continued our partnership of a project that raises awareness of the scope, meaning and significance of landscape architecture in relation to contemporary architecture, art and public space. At this year's event we supported Matěj Frank's Monolog (IN-OUT) artwork at Prague's Vítkov between the Vítkov memorial and the Military Historical Institute.
Monolog IN-OUT is an acoustic locator in the 'pre-radar era' of tracking down enemy aircraft and artillery, and its tone and usage also inspired simple hearing aids. Monolog IN-OUT was created to listen closely to the city's echoes, while also discovering subtle local sounds.
The company dedicated the first summer month of the school holidays to completing projects, handing over apartments (such as Barrandov or other projects), and preparing new residential projects. And many of us chose our holiday destinations.
Our philosophy - which we implement in our projects for commercial/non-residential units - was described on our website by Pavel Rejchrt, one of our company's founders. Here's the link.
August
The second summer school holiday month saw many of our colleagues hit the beach, while their colleagues prepared for events scheduled for September at our residential locations throughout Prague. And work continued on groundwork for projects that will go on sale in coming months or even years. Yes, we are unfortunately adding 'years' because now the average preparation time for a medium-sized housing project (e.g. 100 housing units) takes ten years. That's right, a decade... that's how long an average housing project in the Czech Republic takes to prepare – for the dozens of stamps, approvals, confirmations, green lights, and other signatures.
At our Kaskády Barrandov residential project, both the first half of the new Olga Scheinpflugová square and surrounding area have been completed. Read about this construction in this conversation (link) with our colleague Petr Beránek who is responsible for the project.
September
So much happened in the first month of the new school year in our country…where to start? Let's take it chronologically.
On Tuesday, September 6, we opened a brand-new outdoor gym and fitness zone at Malý háj on an area of 1,000 sqm – where the 15 fitness stations are perfect for all-body workouts and stretching exercises.
And the great grand opening was combined with Honza Sladký's cycling show – truly something for everyone to enjoy.
https://www.finep.cz/cs/magazin/venkovni-posilovna-maly-haj-otevreni
On Wednesday, September 7, we had our nice traditional Harfa Park neighbourhood meeting at Podkovářská park instead to mark the beginning of the school year. There was a popular bouncy castle for kids, a photo booth for all ages, competitions for prizes, and great food and drink.
On Thursday, September 8, 2022, our events moved to Prague 5 on Barrandov, where at our Kaskády Barrandov project we inaugurated the first half of Olga Scheinpflugová square, and unveiled two new artworks (on the building's facade and on the square) by Czech artist Lukáš Rais. And there was more. As Barrandov is historically associated with television, our new bookstore there had to have the style of a TV receiver. The new square includes a book stand and new info touch panel. Together with the square, we also opened a new children's playground at the end of Werichova Street near Holyně, and the new bell rang for the first time. The event, which included a performance by PartyLeaders, concluded with the premiere of a Czech film in the new relaxation zone with water retention tank and summer cinema.
https://www.finep.cz/cs/magazin/namesti-park-barrandov-otevreni
After a restful weekend, a new multifunctional sports field - similar to those at Malý háj and Prosek Park - opened on Monday, September 12 in the Britská čtvrť project. Its opening was accompanied by Honza Weber: the multiple world champion, champion of Europe and the Czech Republic, and world record holder showed his amazing array of freestyle tricks and skills with football and footbag.
https://www.finep.cz/cs/magazin/sportoviste-britska-ctvrt-otevreni
n Tuesday, September 13 was a first at our company. Another of our new products opened at in-progress Nový Opatov: a concrete pump track for bikes and skateboards, rollerblades and scooters (with helmets and respecting regulations). Prague 11 residents and Total Board Shop skaters (who know pump tracks) christened this attraction near Starochodovská Street. Here we also followed up on our other project-related activities with newly planted trees (and eventually a new park), and will continue greenery and leisure activities when the necessary green lights have been received. The media also reported the pump track's opening.
On Thursday, September 15, the mayor of Prague 9 attended the planting of three fruit cherry trees at the Nad Krocínkou project. These trees will be part of the new 29,000 sqm city park.
On Monday, September 19 after a break we had our traditional neighbourhood meeting at the Prosek Park project in Prague 9 with good entertainment, music, food and drink.
Check out events at Prosek here: https://www.finep.cz/cs/magazin/sousedske-setkani-prosek-2022
On Tuesday, September 20, events ended at Kralupy nad Vltavou where we presented our residential project preparation that appeals to local and international visitors. We aim to provide affordable housing outside Prague, with fast and comfortable commuting to the city: our upcoming Rezidence u Vltavy project is just 45 minutes from Prague's Masaryk Station. Register and get all updates before the project goes on sale. More here.
Find general information about our events at locations and projects in our magazine on the company website. And here is the direct link.
In September we also started a completely new era of construction in Prague - Nad Krocínkou, our 16th residential project with 80 private apartments in two buildings and a 29,000 sqm city park.
More information, including apartments, can be found here zde.
And finally, here is the sales summary: from January to the end of September 2022, we sold 200 apartments.
5. 10. 2022