The last stage of family houses in the Britská čtvrť project for sale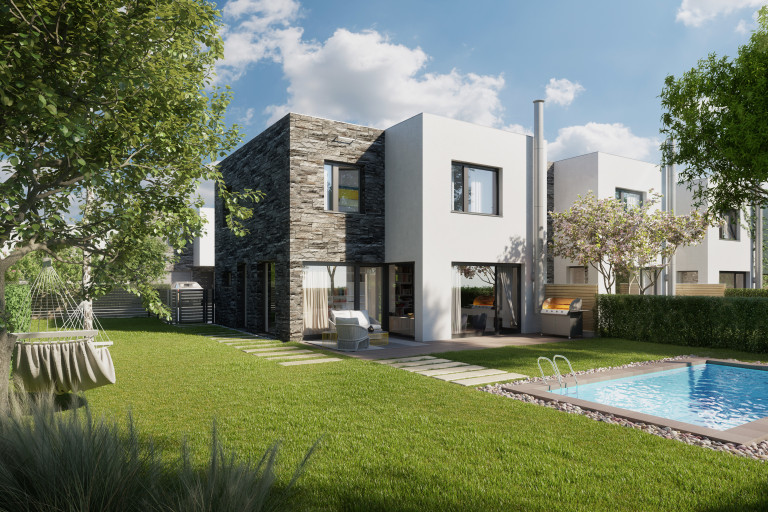 The last stage of family houses in the Britská čtvrť project for sale
We are selling the last fifteen family houses in the unique Britská čtvrť residential project in Stodůlky city district of Prague. We offer twelve modern terraced houses, one interestingly designed semi-detached house, and also one detached family house with a large garden. The houses have a layout of 4+kitchenette or 5+kitchenette with a usable area from 140 m2 to 178 m2 of fully thought-out modern family housing, where the ground floor is a common family area and the first floor is adapted to the individual needs of each family member.
The family houses in our current offer have plots from 200 to 737 m2 and each house has its own garage and a second outdoor parking space. Our above-standard warranty of three years is a matter of course for us.
The Britská čtvrť project is one of the most successful residential projects today which boasts plenty of playgrounds, a lot of parks, and urban greenery. The size of the parks here reaches the area of Václavské náměstí and, in addition to that, there is also the largest outdoor gym in Prague. Of course, there are services in the area such as a supermarket, restaurant, wine shop, pastry shop, and other modern bistros that invite you to come. The advantage of this location is the proximity of the City West, an office district with a number of job offers from international companies. The inhabitants of this modern city district have ideally just a few minutes to get to work.
And for those who prefer to move about the city by public transport, it is about 5 to 10 minutes (depending on speed) to walk to the underground station from the place of the planned construction of houses.
For more information about our new offer of the fourth stage of the construction of family houses in the British Quarter you can see here.
10. 8. 2020