We have opened a new park in Harfa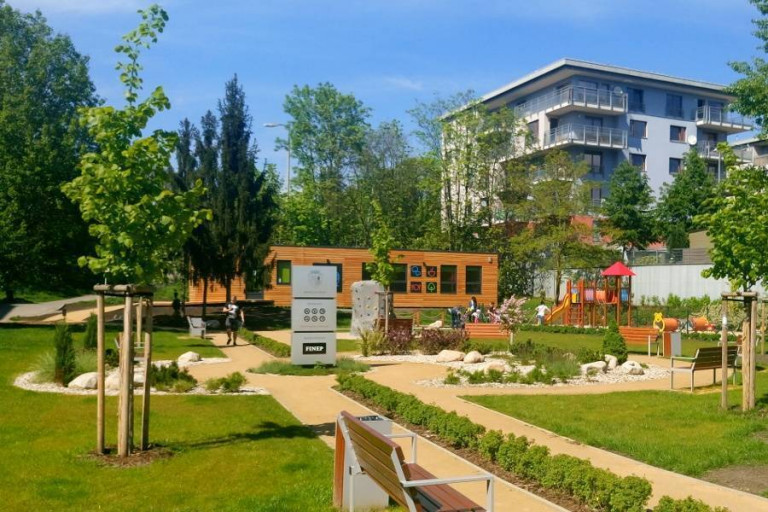 We have opened a new park in Harfa
We are not those who just build a house and leave to build another solitary house somewhere else. Our philosophy is to create a place for life. A nice place to live and dwell in. Therefore, we build grassy parks with mature trees, playgrounds, ponds, leisure time and relaxing areas within our residential projects. We believe that inhabitants of our apartments and family houses can live nicely and happily, if there is fun in a nearby park or playground.
We are happy and we will be glad to share our happiness with you. On Thursday 11 May 2017 we, jointly with administration of the Prague 9 city district, have opened and handed over the new Podkovářská city park in our Harfa Park residential project. This park has grown up on the lands of the Prague 9 city district and our company will also care for it. We promised to reclaim the entire area of the former brownfield and created there not only a new space for relaxing but also a place for meeting of all inhabitants of this young Prague's city residential locality. And we have fulfilled it till the last blade of grass, including new climbing frames and sandpits, row of mature trees and park benches.
In addition to that, last year we have already reclaimed greenery and new dust roads in Podkovářská Street. We have even built small architectonic pieces (benches, waste baskets) and a new playground.
Come to see and enjoy the new Harfa Park in Prague 9 whenever you are around. We are looking forward to you.
Podkovářská Park in numbers and dates:
4,000 m2 of park areas
Adventure playground
Well-tended roads, relaxing areas, benches, mature trees
More than half of the park is formed by well-tended grass areas
12. 5. 2017