Flat 406/C
Flat 401/C - Sold
2+kitchenette, 57,1 m2

Flat 402/C - Sold
3+kitchenette, 87,3 m2

Flat 403/C - Sold
2+kitchenette, 52,7 m2

Flat 404/C - Sold
2+kitchenette, 56,8 m2

Flat 405/C - Sold
2+kitchenette, 53 m2

Flat 406/C - On sale
1+kitchenette 32,9 m2
231 981 €

Flat 401/D - Sold
2+kitchenette, 57,1 m2

Flat 402/D - Sold
3+kitchenette, 87,2 m2

Flat 403/D - Sold
2+kitchenette, 52,5 m2

Flat 404/D - Sold
2+kitchenette, 56,8 m2

Flat 405/D - Sold
2+kitchenette, 53 m2

Flat 406/D - Sold
1+kitchenette, 32,9 m2
i

You have chosen U Sluncové II
Choose floor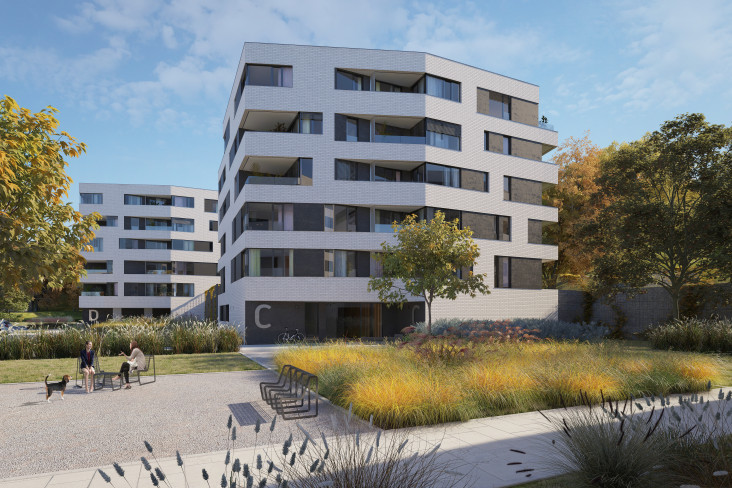 Flat plan

Flat

Floor plan

Floor

Interiors

Inte

Architecture

Architecture
Flat 406/C
Plan

Project

Stage

U Sluncové II

Floor

4th floor

Orientation

E

Loggia

5,6 m2
Ownership

Personal

Layout

1+kitchenette

Area

32,9 m2

Status

On sale, tentative reserved

Price inc. VAT

231 981 €

i

The price of the apartment unit is valid subject to the employment of a 90/10 payment schedule. Should a different manner of payment be employed, the price shall be agreed with the client individually. The listed prices do not include the garage parking space, the parking space outside of the garage and, as the case may be, a utility room and a cellar.
We'll help you to finance your property
With a mortgage with instalments starting from

1 070 €i

Monthly at LTV 20 % and 30 years maturity, calculation is only indicative.

Calculate your installments

By selling another property of yours
Add to My Selection
Remove from My Selection
Calculate the amount of your instalments
You can calculate an approximate value of your monthly mortgage instalment quickly and easily thanks to our calculator.
Item price

€

Own capital

46 396 €

Fixation period

5 Years

Time of repayment

Interest rate from

5.64 % p.a.

Installment from

1 070 €
This calculation is only indicative and applies for own resources amounting to 20 % or 80% LTV. For an exact calculation based on individual requirements and parameters contact our financial specialists. The calculation has been drawn up based on a real estate price determined according to the schedule of payments 90/10.
Informations about the house
Timeless architecture
Second stage U Sluncové II
Total 53 flats in this stage with layout of 1+kitchenette (from 33 m2) to more spacious 4+kitchenette (115 m2)
Special three-year guarantee period
Barrier-free access
Higher standard of equipment ensuring comfort and security of residents
Energy efficiency class B
Architects: Qarta Architektura
Karlín – A New Experience Every Day
Karlín is the perfect place for lovers of any imaginable or unimaginable cuisine. You can grab a beer either watching the stand-up or outdoors in the park. Karlín is full of renowned restaurants, creative and innovative bistros and wine bars, as well as great cafés that are proud to serve a proper flat white or espresso.
A Place for Pedestrians
Accessibility is one of Karlín's great advantages. Living in Karlín is like living in the centre, with all the main facilities at walking distance. And if you need anything else, there is a metro station and a tram stop just few minutes' walk from your home.
Sports, Culture and Recreation at Your Fingertips
The large parks are full of green areas, and even in the more urban areas you'll find plenty of greenery and areas to relax. After all, Karlín is known for its beautiful streets lined with blossoming trees. But it is equally known for its repurposed barracks. Look behind these dilapidated façades creating an incredible atmosphere, and you'll discover premises dedicated to sports, entertainment and culture. Beach volleyball, bars, an outdoor cinema and playgrounds all come together in a single area to create this truly unique atmosphere. In other words, Karlín is the perfect place for pedestrians.
U SLUNCOVÉ – HERE BEATS THE HEART OF KARLÍN
You've found the perfect place a few steps from the vibrant life of the city, yet with complete privacy.
A Private Oasis in Vibrant Karlín
Modern urban accommodation without any compromises? That's Karlín for you, a phenomenon of contemporary Prague. Its perfect location close to the city centre and the incredible transformation it's undergone over the past 20 years are what make Karlín so unique.
The urban parks, the surprising amount of greenery, the wide boulevards, and the fantastic public transport are the icing on the cake. Feel the energy of Karlín pulsating through the buildings as well as the parks, cafés, beer gardens and the restaurants that stand at the forefront of contemporary gastronomy. But it is not just the cafés and restaurants that make Karlín what it is. Nor is the great public transport. Or the beautiful parks. It is the people that make Karlín what it is. Their positive energy and longing for new experiences create the kind of atmosphere you'll recognise from Lisbon in Portugal or Florence in Italy.
Calming Architecture
Modest housing that is secluded without being remote. These four buildings have been carefully integrated into the landscape. Only one hundred people will be lucky enough to call them home and enjoy the advantages and beauty this of high-quality architecture, where the buildings' façades have been specially designed to maximise the amount of sunlight inside the apartments. The architectural design is the work of Qarta Architektura, a company that intentionally has a mixed-generation team in order to combine a fresh view on life with considerable professional experience. FINEP and the Qarta architects have cooperated diligently to create this unique accommodation brimming with harmonious modern design.
A Place for the Picky
As you leave your quiet oasis in the heart of Karlín, a few strides through the urban streets is all it takes for you to reach the centre of all the action. The streets are filled with the smell of freshly roasted coffee, there's a popular wine bar on the corner, and a pastry shop with ingenious creations just across the road. A hundred metres on, a new bistro is about to open and 'your' terrific restaurant, where you love catching up with friends over a wonderful meal, is just a five minute walk from your apartment.
Karlín square, the expansive park area at the top of Vítkov Hill and the Kaizel Gardens comprise Karlín's green lungs and provide space for recreation. And the nearby Rohan Island attracts anyone wanting to go for a run, get some exercise, go horse riding, practise their swing at the golf tee or simply sit next to the Vltava and watch the sun set over Holešovice.

Finance the purchase by selling another property
Do you need to finance purchase of a new property by selling another? We are ready to help you both with sale and all the related issues. Contact us with confidence.