House A82
i

You have chosen Family houses Štěrboholy VI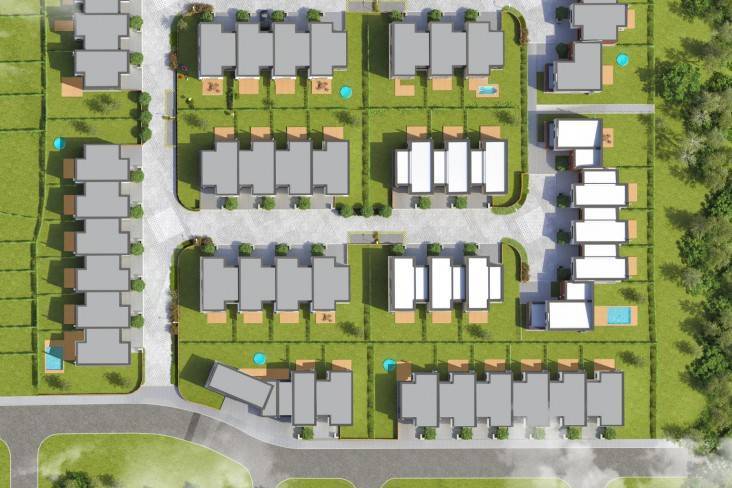 House A70 - Sold
4+kitchenette, 147,2 m2
House A71 - Sold
4+kitchenette, 147,2 m2
House A72 - Sold
4+kitchenette, 147,2 m2
House A73 - Sold
4+kitchenette, 147,2 m2
House A74 - Sold
4+kitchenette, 147,2 m2
House A75 - Sold
4+kitchenette, 147,2 m2
House A82 - On sale
5+kitchenette 172,6 m2
528 424 €
House A83 - Sold
4+kitchenette, 147,2 m2
House A84 - Sold
4+kitchenette, 147,2 m2
House A85 - Sold
4+kitchenette, 147,2 m2
House A86 - Sold
5+kitchenette, 159,6 m2
Floor plan 1st floor

1st floor

Floor plan 2nd floor

2nd floor

House visualization

Visualization

Interior video
House A82
Plan

Project

Stage

Orientation

E, N, S, W

Land

434,5 m2
Ownership

Personal

Layout

5+kitchenette

Usable area

172,6 m2

Status

On saleN

Tentative reserved

Price inc. VAT

528 424 €i

The price of the family house unit is valid subject to the employment of a standard payment schedule.
Get a new place of living from the safety of your home
We have prepared a full-fledged alternative to face-to-face meetings, but over the Internet. We call it e-Meeting. During e-Meeting, our sales person will contact you via phone call and share with you all the essential information and documents using our new on-line application just as you would be present in a personal meeting.
We'll help you to finance your property
With a mortgage with instalments starting from

1 582 €i

Monthly at LTV 20 % and 30 years maturity, calculation is only indicative.

Calculate your installments

By selling another property of yours
Add to My Selection
Remove from My Selection
Calculate the amount of your instalments
You can calculate an approximate value of your monthly mortgage instalment quickly and easily thanks to our calculator.
Item price

€

Own capital

105 685 €

Fixation period

5 Years

Time of repayment

Interest rate from

2.09 % p.a.

Installment from

1 582 €
This calculation is only indicative and applies for own resources amounting to 20 % or 80% LTV. For an exact calculation based on individual requirements and parameters contact our financial specialists. The calculation has been drawn up based on a real estate price determined according to the schedule of payments 90/10.
11 new terraced family houses
Comfortable modern architecture
Sophisticated layouts
Houses of 4+kitchenette and 5+kitchenette category with an area from 147 up to 172 m2
Each house has its own garage and outdoor parking spot
High-quality housing at a reasonable price
Special 3-year warranty
Large selection of extra equipment, including a layout choice
Excellent accessibility to public transport (4-minute walk to bus stop) and connection to Prague's access roads
Energy efficiency class B and C
Status: on sale
Architect: AHK ARCHITEKTI, s.r.o., Project designer: LV PLAN, s.r.o.
We have extended our offer of family row houses in the residential locality of Malý háj with another 11 row houses within already the 6th phase of modern row houses construction project in Malý háj. In that phase we offer family houses with the layout of 4+kitchenette and 5+kitchenette with useful floor area from 147 tup o 172 m2 with own lands from 190 up to 430 m2. The row houses have large ground floor for shared family life and the first floor adjusted for privacy of each family member. Each of the houses has its own, sufficiently large garden. A garage and other parking places in front of a house are obvious. A great benefit for each owner of those family houses is an enhanced three years' warranty.
The Malý Háj residential locality offers its inhabitants sufficient greenery including a central park being currently built. Nice playgrounds and other grass areas go without saying. Another great benefit of this locality are the adjacent natural areas and parks at the boundary of the project and several cycle paths.
Come to see us in our show house in the locality and we believe that you will like Malý Háj, which will turn into your new address of your happy family life.
Model houses at this locality
Model house 4+kitchenette
Finance the purchase by selling another property
Do you need to finance purchase of a new property by selling another? We are ready to help you both with sale and all the related issues. Contact us with confidence.