Flat 104/A - On sale
2+kitchenette 58,9 m2
228 255 €

Flat 103/A - Sold
1+kitchenette, 25,8 m2

Flat 102/A - Sold
3+kitchenette, 80,1 m2

Flat 101/A - Sold
4+kitchenette, 107,2 m2

Flat 105/B - On sale
2+kitchenette 56,7 m2
198 672 €

Flat 106/B - Sold
1+kitchenette, 41,8 m2

Flat 107/B - Sold
1+kitchenette, 39,4 m2

Flat 108/B - On sale
2+kitchenette 52,8 m2
186 888 €

Flat 109/B - Sold
4+kitchenette, 115,8 m2

Flat 110/B - Sold
4+kitchenette, 108,6 m2

Flat 111/B - Sold
2+kitchenette, 53 m2

Flat 112/B - Sold
2+kitchenette, 52,9 m2
i

You have chosen Nová Elektra I
Choose floor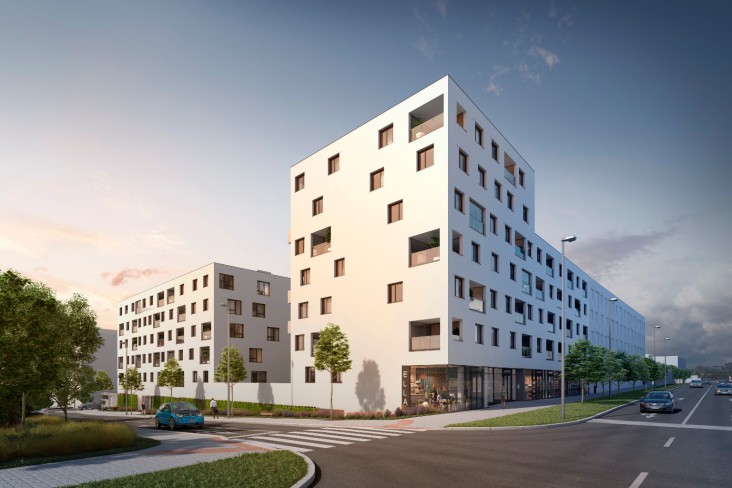 1st floor
2nd floor
3rd floor
4th floor
5th floor
6th floor
7th floor
There are no results for the entered parameters. Please try to modify them.
We will help you to choose an apartment
Do you need help? Contact us, we are here for you.
High-quality services go without saying
There is an elementary school, kindergarten, health centre, post office and several shopping centres near the Nová Elektra. In addition to that, a construction of further new residential houses, shopping and service areas is planned for the future.
You are in metro within 5 minutes
Live in an easily accessible place. The Nová Elektra is located directly at a tram stop, just 5 minutes from Hloubětín metro station. You can get to the city centre easily within 20 minutes.
It is an ideal place for sports and relaxation
The surrounding area is interwoven with cycle tracks that lead for example from Karlín up to Hrdlořezy and a number of sports facilities. Relaxation is the right thing after every sporting activity. You can enjoy it in a pleasant relaxation area located in Rokytka, a natural park situated at the river of the same name.
...
Map legend
Flats Nová Elektra
Metro station
Tram stop
Gas station
Shopping center
Restaurant
Train station
Veterinary
Sport areal
Children playground
Kindergarten
Bicycle path
Elementary school
High school
Hairdresser
Aquapark
Post
Bus stop
Library
Pharmacy
ATM
Riding hall
Castle