New privately owned apartments in Harfa now on sale!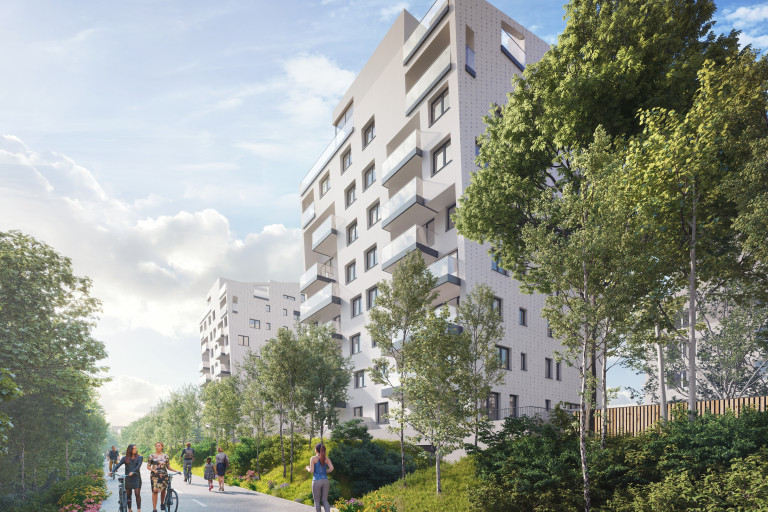 New privately owned apartments in Harfa now on sale!
It has already been 7 years since the last stage of our Harfa Park project. And now is the right time to return to this great residential location. In full swing and with the offer of 62 housing units in all the most frequently available layouts – from spacious 1+kitchenette (from 35.9 m2), through the still best-selling on the market 2+kitchenette apartments, to large family apartments 4+kitchenette up to 120 m2. We also offer six completely exceptional duplex apartments on the top floors with large terraces. Beautiful panoramic views of large part of Prague included.
Our new residential project in Harfa consists of one housing project with two separate sections, in which there is a total of 62 new apartments in personal ownership. Harfa Park VIII has thumbprint of the AIP architekti architectural studio (Ing. Arch. Jaroslav Kačer and Ing. Zdeněk Jäger) and the two towers of the housing project refresh the existing surrounding residential housing with very interesting modern architecture.
Harfa Park, with its eighth stage, dominates a locality that used to be one of the key locations of heavy industry in Prague. But it belongs to the past. Today, Harfa Park is a quiet location with Rokytka River that flows through it. It is fringed by a modern bike path, parks, and playgrounds. Our eighth stage will offer its inhabitants not only peace in the wider city centre, but also very pleasant comfortable urban living with complete community infrastructure and services in the immediate vicinity. A great benefit of the place is also excellent transport accessibility thanks to a very dense network of tram lines, buses, but also trains and the nearby underground station.
Of course, there is an above-standard three-year warranty and also a barrier-free access to the building for all its residents. Part of our new project is the offer of garage and outdoor parking places for owners of new apartments in personal ownership in the eighth stage of our Harfa Park residential project.
For more information and the current offer of vacant apartments in the Harfa Park VIII project see here.
11. 11. 2020