We have opened a new multi-purpose playground and a town park in Prosek Park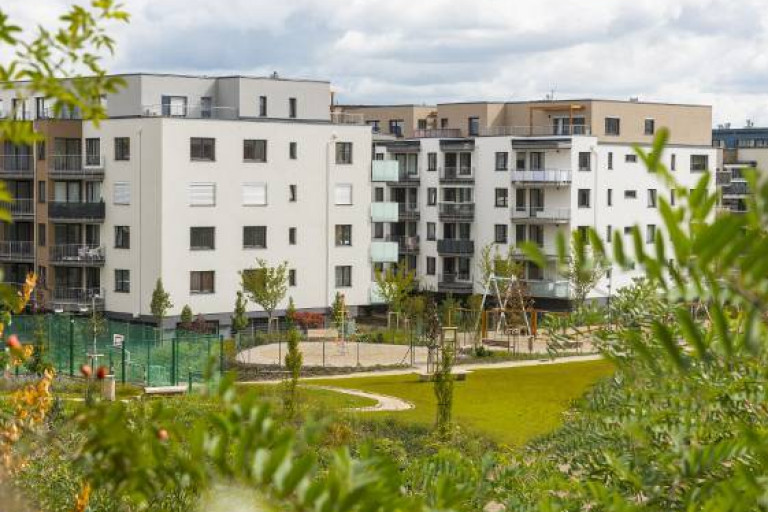 We have opened a new multi-purpose playground and a town park in Prosek Park
For more than 20 years we are on the market we adhere to our philosophy. Actually, we sell to our clients not only a single apartment, but always a complete space for living, in which everybody can feel happily. It is not our goal to build an apartment house and then leave the locality and start to build another house on the other end of Prague.
Therefore, with love for development of modern living in Prague, we also build a new urban grass lawn parks and areas with grown trees, playgrounds, ponds, and leisure and relaxation areas within our residential projects. We believe that inhabitants of our apartments and family houses can live nicely and happily, if there is fun in a nearby park or playground.
We are happy that we can announce our hot news with great joy and pride. On Thursday 21 September 2017, we, jointly with the authority of the Prague 9 city district, have opened and handed over a new urban park and a multi-purpose playground in our Prosek Park residential project. The new urban park and multi-purpose playground forms part of our residential project, within which we already currently sell its 12th phase.
Historically, we have already planted tens of grown trees, reclaimed the greenery or built the walking paths among the individual apartment houses in Prosek Park during construction in the locality. We even did not forget about benches and litter bins.
Come to see and enjoy the new urban park and multi-purpose playground in Prague 9, whenever you are around. We are looking forward
The park and multi-purpose playground in numbers and dates:
A multi-purpose playground of 16 x 30 meters designated for basketball, volleyball, football tennis or football
A meadow abounding with flowers with an area exceeding 5,800 m2
A relaxation lawn with the area of 509 m2
A playground for older children (a climbing wall, swings, cable-way, trampoline, etc.) with the area of 411 m2
A playground for smaller children (a sandpit, climbing frames, children's playhouse, swings, drawing boards, etc.) with the area of 170 m2 and a playground with a rope play unit with the area of 136 m2
Hard roads, areas for walking, ornamental bushed areas, rest areas, etc.
Multi-purpose playground
Book a date and time for the playground and enjoy the fresh air sports
Book playground
22. 9. 2017