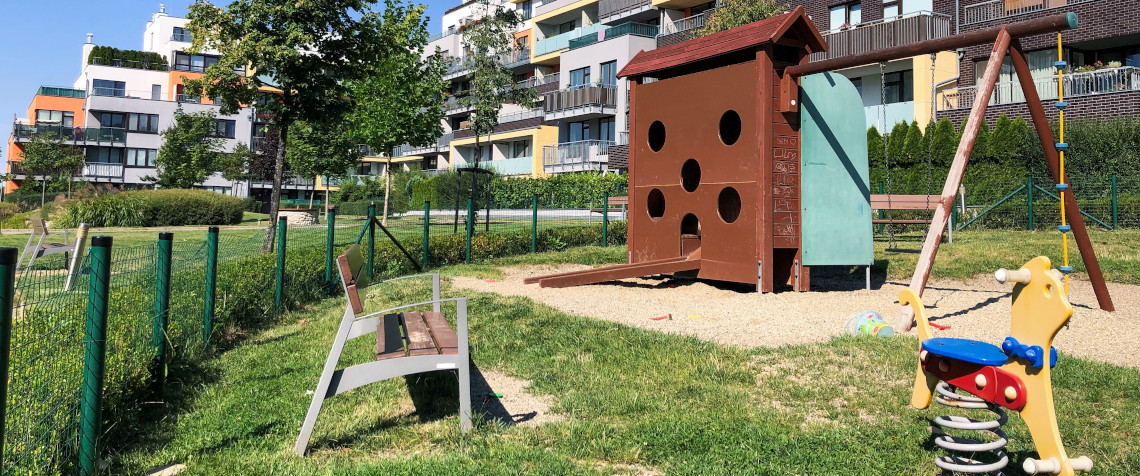 We visited: playground at Britská čtvrť
If you are looking for a more peaceful place to play in Britská čtvrť, be sure to visit the playground in the courtyard of the northernmost residential development (first stages of the houses). Today, all events are concentrated on the field near the square and this is a bit unjustly forgotten. There are a lot of common fun toys on the playground, with which children can nicely play to their heart's content. It even seemed to me as if the playground was a bit looked after by the owners of the surrounding apartments – that is, as if they considered it a bit like their own and brought their toys there in very good condition.
The slide was designated for smaller children, but there also are various swings, a large sandpit, rope climbing frame and a climbing wall on the playground. I also like the grass, which partially covers the playground. Plenty of benches is a matter of course. The disadvantage on hot days may be the lack of shade, which is shortcoming of perhaps all newly built playgrounds.
So, if you sometimes welcome a quieter place where you don't meet too many children, I recommend visiting this playground.
Which way to the playground?
...
Map legend
Children playground
Flats Britská čtvrť