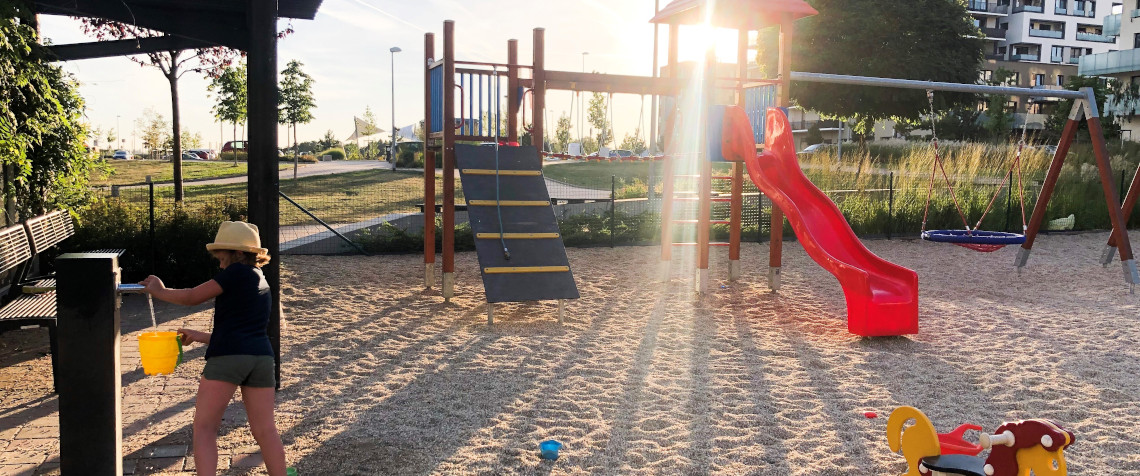 We visited: playground at Britská
In the heart of the ever-expanding Britská čtvrť, just a few steps from the Stodůlky metro station, you will find one of several newly built playgrounds. The largest is the one in the Britská čtvrť, which has been designed for people of all ages. Toddlers will love the sandpits and pebbles or a rocking plate made of woven ropes. Older children will appreciate the rocking horses, classic swings, slides, and climbing frames. Pre-schoolers will admire the cable car and carousel.
Not only parents will benefit from plenty of benches under the pergolas with natural plants that provide plenty of shade. The benches are an ideal place for a small snack or a quiet sitting while waiting for children having a good romp.
If you have a water lover at home, do not tell him/her that the water tap is working. Otherwise you will not return home before dusk. You can be sure that your children can have fun for a long time by drawing the water into a bucket, washing stones or their own feet.
The playground is directly adjacent to two businesses that you should definitely visit – La Zmrzka (link) and Bohemia Wine. Cakes, several types of honestly made ice cream, home-made lemonade or a glass of wine will make your day more pleasant. What more could you want than having your children playing on the playground under your watchful eyes? Ideal moments for parents.
S hřištěm přímo sousedí dva podniky, které rozhodně nezapomeňte navštívit - La Zmrzka (odkaz) a vinárna Bohemia Wine. Dorty, několik druhů poctivě vyráběných zmrzlin, domácí limonády nebo sklenka vína vám zpříjemní den. Co víc si přát, než mít u toho na dohled děti dovádějící na hřišti? Rodičovská idylka je na světe.
Which way to the playground?
...
Map legend
Children playground
Flats Britská čtvrť