Flat 504/Y1
Flat 504/Y1 - On sale
1+kitchenette 33,6 m2
152 728 €

Flat 503/Y1 - Sold
4+kitchenette, 110,7 m2

Flat 502/Y1 - Sold
2+kitchenette, 54,6 m2

Flat 501/Y1 - Sold
2+kitchenette, 52,9 m2

Flat 505/Y2 - Sold
2+kitchenette, 52,9 m2

Flat 506/Y2 - Sold
2+kitchenette, 54,6 m2

Flat 507/Y2 - Sold
4+kitchenette, 110,7 m2

Flat 508/Y2 - Sold
1+kitchenette, 33,6 m2
i

You have chosen Harfa Park VIII
Choose floor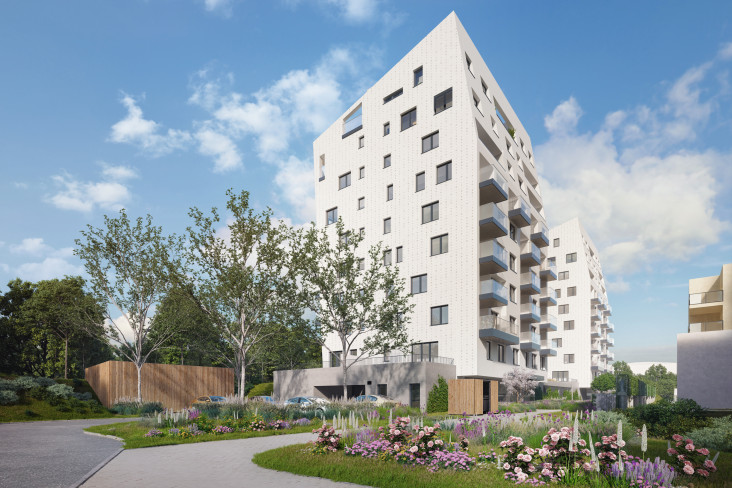 1st floor
2nd floor
3rd floor
4th floor
5th floor
6th floor
7th floor
8th and 9th floor
Flat plan

Flat

Floor plan

Floor

Interiors

Architecture
Flat 504/Y1
Plan

Project

Stage

Floor

Orientation

S

Balcony

7,4 m2

Garage

Yes

The price of the garage parking place is not included in the total price of the apartment.
Ownership

Personal

Layout

1+kitchenette

Area

33,6 m2

Status

On sale, tentative reserved

Price inc. VAT

152 728 €

i

The price of the apartment unit is valid subject to the employment of a 90/10 payment schedule. Should a different manner of payment be employed, the price shall be agreed with the client individually. The listed prices do not include the garage parking space, the parking space outside of the garage and, as the case may be, a utility room and a cellar.
Get a new place of living from the safety of your home
We have prepared a full-fledged alternative to face-to-face meetings, but over the Internet. We call it e-Meeting. During e-Meeting, our sales person will contact you via phone call and share with you all the essential information and documents using our new on-line application just as you would be present in a personal meeting.
We'll help you to finance your property
With a mortgage with instalments starting from

445 €i

Monthly at LTV 20 % and 30 years maturity, calculation is only indicative.

Calculate your installments

By selling another property of yours
Add to My Selection
Remove from My Selection
Calculate the amount of your instalments
You can calculate an approximate value of your monthly mortgage instalment quickly and easily thanks to our calculator.
Item price

€

Own capital

30 546 €

Fixation period

5 Years

Time of repayment

Interest rate from

1.89 % p.a.

Installment from

445 €
This calculation is only indicative and applies for own resources amounting to 20 % or 80% LTV. For an exact calculation based on individual requirements and parameters contact our financial specialists. The calculation has been drawn up based on a real estate price determined according to the schedule of payments 90/10.
Harfa Park VII consists of one house with two separate sections connected by a garage
The total number of new apartments in this phase is 105 with the layouts of 1+kitchenette (from 35,9 m2) to more spacious 4+kitchenette (up to 120 m2)
On the upper floors there are 6 maisonettes up to 117 m2 with large terraces
The apartments are offered with the possibility of variable interior solutions
Parking in underground garages
Close to the tram and bus stops, direct connection to center of Prague
Rich civic amenities
Energy efficiency class B
Architect: A.I.P. – Architecture Interior Project
City Life
Modern city living, where you have all the services at your fingertips. Do you need to make shopping? Are you looking for a good café or restaurant? Everything is available there and you can choose from a number of offers. Schools, kindergartens, health care, all within easy reach. A multifunctional arena, two large shopping centres within a walking distance or a swimming pool with sea water.
Accessibility
Enjoy the city where everything is within easy reach – bus, tram and train stops are around the corner and you are within ten minutes by underground in the centre of the hundred-spired Prague. If you want to escape out of the city and clear your head outside the metropolis, you can do it in a few minutes thanks to several backbone roads.
Countryside and Sports
Even though you live in a wide city centre, you have countryside within easy reach. Just take your bike, inline skates, or sports shoes and in no time you can be in a park, relax along Rokytka River or at the pond Hořejší rybník. For the little ones, there is the newly built Podkovářská city park, which has been opened in 2018.

Finance the purchase by selling another property
Do you need to finance purchase of a new property by selling another? We are ready to help you both with sale and all the related issues. Contact us with confidence.
...
Map legend
Flats Harfa Park
Shopping center
Pharmacy
Bicycle path
Sport areal
Children playground
Hiking wall
ATM
Charging station
High school
Metro station
Bus stop
Tram stop
Elementary school
Kindergarten
Café
Fitness
Park
Gas station
Veterinary
Riding hall
Restaurant
Brewery
Wine bar
Train station