New family houses at Šterboholy - Malý háj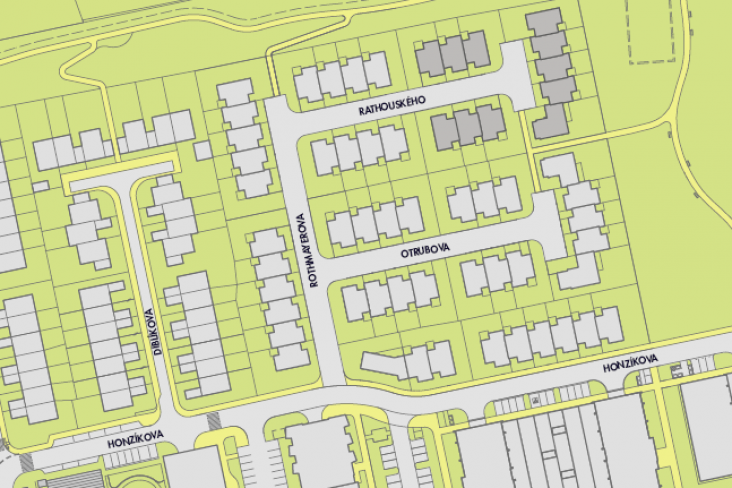 Family houses Štěrboholy VII
Stages

Video of locality

Video

Architecture

Neighborhood
Specify selection
Price
other
Rough construction completed
Print pricelist
Order
from the lowest

from the lowest

from the highest

from the smallest area

from the biggest area

from the smallest layout

from the biggest layout

from the lowest floor

from the top floor
The individual prices are based on the rules specified with the individual properties on our website: www.finep.cz.
The individual discounts are based on the rules specified with the individual properties on our website: www.finep.cz.
We will help you to choose a house
Do you need help? Contact us, we are here for you.
The Štěrboholy family houses project is located between the older buildings of Štěrboholy and a quiet place of Dolní Měcholupy.
The row family houses form a continuation of the Malý Háj residential houses project (more information) and will gradually blend into the family houses of old Štěrboholy from the opposite side through the newly prepared park with relaxation zones.
The surrounding area offers a wide range of relaxation places for leisure activities. Sports lovers will undoubtedly appreciate a brand new sports complex dominated by a multi-purpose sports hall. It also features a third generation artificial grass pitch and two clay tennis courts. Cyclists will use the new bike path and inline track and golf lovers can use the Golf Hostivař, which is 10-minute drive away. Thanks to the beautiful countryside in the immediate vicinity you are offered a wide range of sports and leisure time activities, such as jogging, cycling, or inline skating, fishing or walking in the close natural park in Hrušov.
Café Malý Háj and Studio Fly, a hairdresser and barber salon and others are located directly within the newly built stages of the residential project. An urban traffic bus stop is situated a few meters from Malý Háj.
A big advantage is the close proximity of the newly opened Retail Park Štěrboholy, where you can find, for example, Lidl and Iceland food shops, Sportisimo sporting goods store, Rossmann drugstore, a pet shop and many others. The nearby Europark Štěrboholy shopping centre offers another range of shops. Štěrboholy and Dolní Měcholupy provide a kindergarten and elementary school.
Acquiring your own family house, you will always get life security. Moreover, the new family houses from FINEP are always situated in a top locality in which your family house will surely appreciate over time. As a result, buying a new family house will safely secure you for old age. Play it safe and save up for your retirement.
We also offer a wide range of layouts. Our 5+kitchenette family houses are always cleverly designed with an emphasis put on practical living. Already in the course of preparation of the 5+kitchenette layout, we think of high comfort of living, and therefore we plan ahead for space for kitchenette or built-in wardrobes.
All fans of beautiful nature will love Štěrboholy. The FINEP's Malý Háj residential project is located on the border of Štěrboholy and Dolní Měcholupy. As a result, it can benefit from the services available in both of these neighbourhoods, which still retain their village character. At the same time, its inhabitants can use high-quality transport accessibility right to the centre of Prague. If you are interested in Prague 10 – Štěrboholy, take a look at our offer of apartments. We believe that you can choose the housing of your dreams and Štěrboholy will become your home.
...
Map legend
Flats Malý háj
Bus stop
Doctor
Kindergarten
Elementary school
Municipality
Shopping center
Restaurant
ATM
Pharmacy
Post
Police station
Veterinary
Sport areal
Bicycle path
Inline
Hairdresser
Neighbourhood Magazine
Your neighbourhood and the backdrop to your daily lives is important to us. We want you and your family, friends and neighbours to feel as at home here as possible so that you can enjoy life to the full.
Our magazine is full of information about life in Malý háj – you can find out what plans are in the making, read accounts from past events or reviews of the local business we have visited.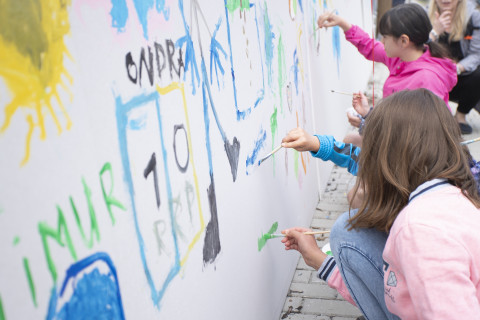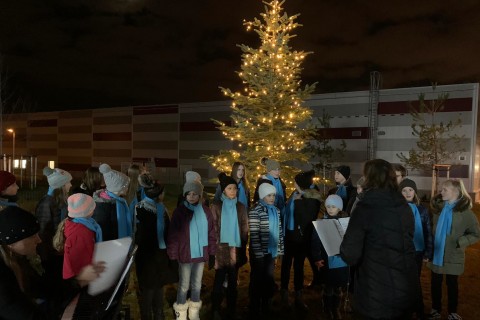 Christmas tree lighting ceremony, or Advent at Finep
3. 12. 2019 ul. Kryšpínova
Event report
Pořádá FINEP
Malý háj
Another great neighbours' meeting in Malý Háj on the occasion of lighting up the Christmas tree is behind us. Let's reminisce the event accompanied by a children's choir, mulled wine, and gifts for children.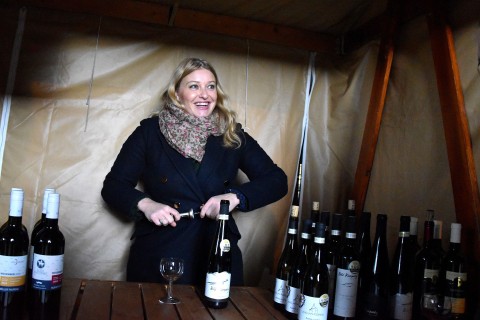 The celebration of St. Martin's wines
18. 11. 2019 ul. Kryšpínova
Pořádá FINEP
Malý háj
Event report
The cornerstone of the tradition of neighbours' meetings was laid just here. At the occasion of the tasting of St. Martin's wines which took place on 18 November in Malý Háj. And how did it go?