Commercial premise KP115/A2
i

You have chosen Residence Pergamenka II
Choose floor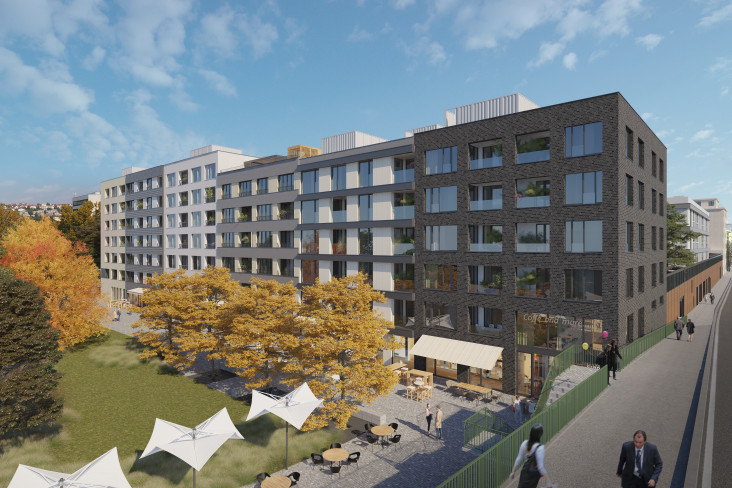 Flat plan

Flat

Floor plan

Floor

Inner courtyard

Courtyard

Architecture
Commercial premise KP115/A2
Plan

Project

Stage

Residence Pergamenka II

Floor

1st floor

Orientation
Ownership

Personal

Area

71,2 m2

Status

On sale

Price without VAT

223 946 €

i

The price of the apartment unit is valid subject to the employment of a 90/10 payment schedule. Should a different manner of payment be employed, the price shall be agreed with the client individually. The listed prices do not include the garage parking space, the parking space outside of the garage and, as the case may be, a utility room and a cellar.
Calculate the amount of your instalments
You can calculate an approximate value of your monthly mortgage instalment quickly and easily thanks to our calculator.
Item price

€

Own capital

44 789 €

Fixation period

5 Years

Time of repayment

Interest rate from

5.49 % p.a.

Installment from

1 016 €
This calculation is only indicative and applies for own resources amounting to 20 % or 80% LTV. For an exact calculation based on individual requirements and parameters contact our financial specialists. The calculation has been drawn up based on a real estate price determined according to the schedule of payments 90/10.
Informations about the house
Timeless architecture with emphasis on preservation of the face of the surrounding original housing development
Second stage of Residence Pergamenka project
Total 131 apartments in this stage with layouts of 1+kitchenette (from 32 m2) to more spacious 4+kitchenette (120 m2)
Special three-year guarantee period
Barrier-free access
Higher standard of equipment ensuring comfort and security of residents
Energy efficiency class B
Architects: Prokop Tomášek and Jan Rosický from architecture studio A69
Abundant services
gastronomic experience in a finest restaurant or have a drink with your friends in a bar. And you will surely appreciate the vicinity of a school, kindergarten, playgrounds, and a pharmacy or grocery shop in your everyday life. Welcome in Pergamenka in Holešovice district of Prague. In a place, where you would love to live.
Perfect accessibility
Now you have everything at hand. It takes you only 1 minute to a bus stop, 2 minutes to a tram and within 6 minutes only you can get on a train or underground. On foot of course. And it's still not the best. The best is that you are already in the city centre. You can take underground and get off at Florec, Main Station or Museum within several minutes.
Art of relaxation
Pergamenka offers its residents relaxation for their body and mind. The newly created area of the inner courtyard will form a combination of an industrial atmosphere, mainly thanks to steel constructions of the former warehouses supplemented with works of art, water features, and places to sit and relax. The surrounding area offers a fitness centre, cycle path, swimming pool, newly revitalised city park Stromovka, and of course museum and gallery as representatives of culture.
Industrial atmosphere
The genius loci of the whole building will be intensified by a public area composed of a park with a revitalised steel skeleton of former warehouse buildings.
Holešovice, it is new Karlín
Previously neglected working-class locality is changing before your eyes into one of the most stylish Prague's quarters. Be there and in time, until the place with Karlín-style will also be expensive as Karlín.
You can live in a town quarter, from where you can walk to your favourite coffee-house, snack bar, restaurant or shop. In the place, where you can spend weekends with your family or friends – go into a park, visit a museum or gallery and finish the day with a drink in a bar, just several steps from your apartment.
All of these and more. This is Holešovice, your new home.
Quality and design
The basis of every high-quality living is utilisation of the best materials and accessories. The Rezidence Pergamenka project has particularly in mind the comfort of its future residents inside and outside as well. In addition to preservation of the structure of the former warehouses, the newly created unique area of the inner courtyard will add works of art, water features, and places for sitting and relaxing.
Prokop Tomášek and Jan Rosický, the architects of the architectural studio A69 are behind the quality and unique example of a combination of industrial and housing functions.
With respect to the history of this place
The basic philosophy of the whole project is to follow the nature of the original urban buildings of Holešovice with reference to the rich history of the former warehouse facilities in Ferona premises. The project will, among others, preserve and refurbish the original building of a store, in which you will find the Wine Food snack bar and a fitness centre.
The genius loci of the whole building will be intensified by a public area composed of a park with a revitalised steel skeleton of former warehouse buildings. Thus, it will form a unique concept of an industrial garden that will naturally supplement the modern architecture of the whole project.
Read more about Pergamenka

Finance the purchase by selling another property
Do you need to finance purchase of a new property by selling another? We are ready to help you both with sale and all the related issues. Contact us with confidence.
...
Map legend
Pergamenka residence
Bus stop
ATM
Restaurant
Tram stop
Pharmacy
Hairdresser
Sport areal
Police station
Metro station
High school
Shopping center
Children playground
Elementary school
Aquapark
Train station
University
Gas station
Parking
Doctor
Kindergarten