Barrandov Has a New Relief Sculpture, One of the Largest Ones in Prague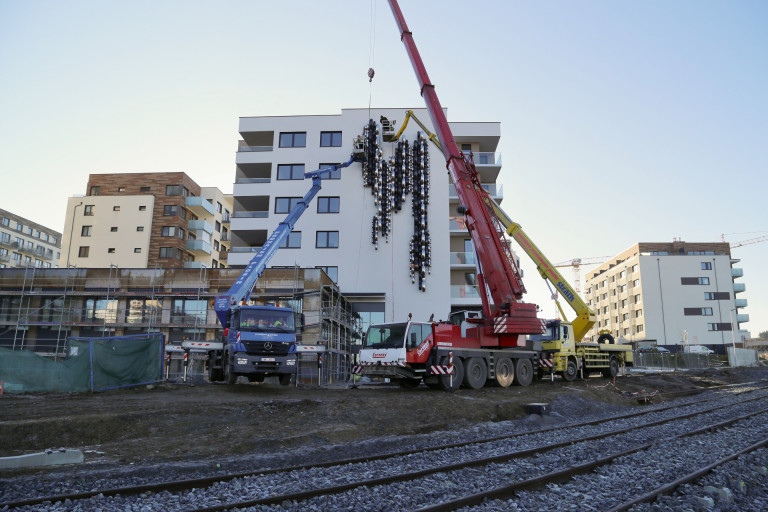 Barrandov Has a New Relief Sculpture, One of the Largest Ones in Prague
The front part of the "I" house on the newly emerging Olga Scheinpflugová Square is decorated with a unique metal sculpture by the sculptor Lukáš Rais. The work measuring 6.5 x 16.5 meters is one of the largest in Prague. A similar execution has not occurred in the public space of the capital for several decades.
The monumental relief on the "I" house forms only part of the author's broader artistic concept, which he has developed for the entire square. It will be complemented by two non-traditional water features located in the middle of the square. These fountains will be installed in the last phase of the construction, tentatively in the summer of 2022.
For the VIDEO of the installation please see here.
FINEP addresses the sculptor Lukáš Rais regularly. His installations are located in the interiors and exteriors of several of our projects. The most recent is the Stele II of 2019, which stands at the intersection of Makedonská and Lovosická Streets on the edge of Prosek Park. The wall sculptures of Lukáš Rais can also be seen in the lobbies of the Nad Přehradou building in Hostivař. Barrandov's realization will be our largest joint project so far.
Lukáš Rais typically creates his works from metal tubes. He appreciates the endless possibilities of their modelling and transforming. A team of technical specialists works with him in his studio bringing unprecedented precision and accuracy into his work. The resulting works of Lukáš Rais are characterized by a robust and solid shape composition, but at the same time they are especially rich in delicate or even fragile internal industrial poetics.
PHOTO GALLERY of the installation
Photo gallery of the workshop of Lukáš Rais
31. 1. 2022