A New Stage in Prague 6 within the Rezidence U Šárky Project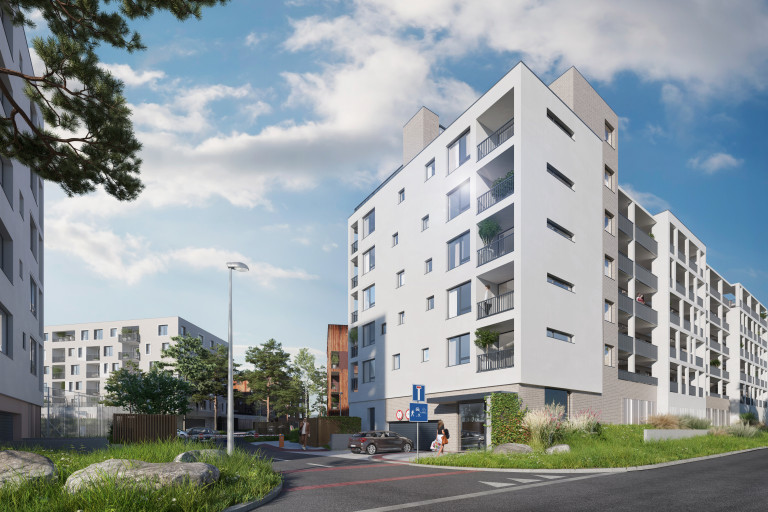 A New Stage in Prague 6 within the Rezidence U Šárky Project
We are selling another stage of apartments, already the third in a row, in this year's residential novelty in Prague 6. We newly offer 102 residential units in cooperative ownership for sale in the Rezidence U Šárky Project. We offer the apartments with layouts from 1 + kitchenette (from 34.1 m2) to spacious family apartments 4 + kitchenette (up to 118 m2).

All these new apartments will form part of a wooded city forest park, which will emerge there during the new construction. Rezidence U Šárky – one of the first residential projects in Prague – combines the quality of modern urban living with the feeling of freedom of own existence thanks to the urban greenery and countryside that will surround the new buildings. In addition, all lovers of healthful outdoor exercising will surely welcome that the western tip of Divoká Šárka is literally "just around the corner". Thanks to the planned creation of a new urban forest with more than 500 mature trees, which will be planted as part of the residential project, the green Divoká Šárka will extend across Evropská Street too. Thus, the green belt will end (or start) in the middle of the Rezidence U Šárky Project.
Our new apartment building by architects from the AIP Architects studio (Ing. Arch. Jaroslav Kačer) completes the natural network of streets and brings an "old"-new construction of linear apartment buildings, the way we know it from the housing construction in Austrian Vienna, to the Prague residential market. This "linearity" will be supported by the specificity of the outdoor common areas of the building. The building offers interesting layouts of its apartments, which are oriented in the east-west direction (which is, by the way, great for perfect ventilation of the apartment, because apartments in which their windows are one side of the building only, do not provide such a great ventilation). In the morning you will enjoy the sunrise and in the evening the sunset. And the owners of the apartments on the top floor can enjoy the sun all day long thanks to the roof terraces.
The Rezidence U Šárky Project offers modern urban living with excellent transport accessibility. Both to the city centre and to the airport. It is also possible to use a nearby train for transport around the city; in the future, an extension of the tram line is planned directly in that locality. This will then significantly speed up passenger transport in the direction to the city centre. A restaurant with tank beer is also planned to be built on the site. It will have a very pleasant outdoor seating area, right at the future terminal station of a tram line.
You can find the current offer of our new cooperative apartments in the Rezidence U Šárky Project here.
25. 11. 2020