New flats at Prague 9 - Hloubětín, Nová Elektra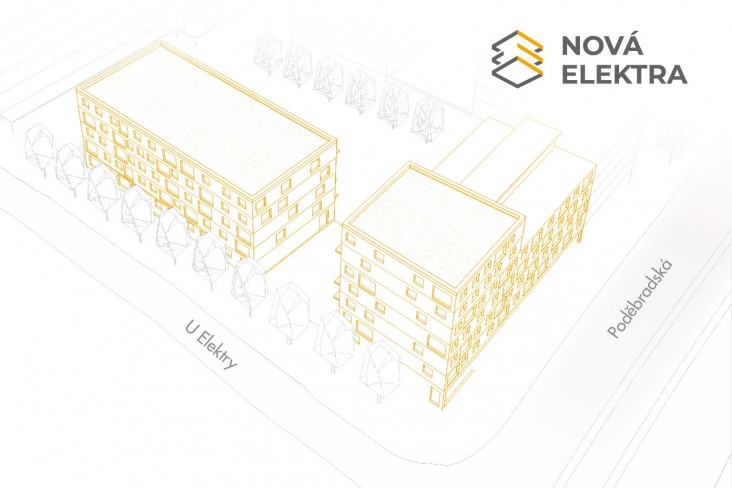 Architecture

Interiors

Neighborhood
There are no results for the entered parameters. Please try to modify them.
High-quality services go without saying
There is an elementary school, kindergarten, health centre, post office and several shopping centres near the Nová Elektra. In addition to that, a construction of further new residential houses, shopping and service areas is planned for the future.
You are in metro within 5 minutes
Live in an easily accessible place. The Nová Elektra is located directly at a tram stop, just 5 minutes from Hloubětín metro station. You can get to the city centre easily within 20 minutes.
It is an ideal place for sports and relaxation
The surrounding area is interwoven with cycle tracks that lead for example from Karlín up to Hrdlořezy and a number of sports facilities. Relaxation is the right thing after every sporting activity. You can enjoy it in a pleasant relaxation area located in Rokytka, a natural park situated at the river of the same name.
Hloubětín in bloom
If a stranger visits Hloubětín today, he or she will be definitely in ecstasy. As you stroll through this city district, you will feel a rare atmosphere of already several various places.
Let's start with the residential buildings of the last century with which as if time has stopped. It is a place which offers a lot of services and provides a beautiful architecture of the 60th of the last century.
Let's keep walking along Hloubětín where we encounter an extensive industrial area, where famous companies used to operate their business, for example Elektra on the foundations of which we are now building a new story. We have to say that every place in which people work and act bears an imprint of their skills, knowledge, efforts and energy. And this place literally overflows with all of these. Thanks to its great accessibility from various corners of Prague, a whole range of shopping centres that provide their services to all those who live or work in the area started to arise there.
We can finish our walk with the last surprise that can amaze those who do not know this place at all. The thing is that you can find an oasis of peace just a few steps away from the industrial area. This oasis is Rokytka, a natural park through which a river of the same name flows lined with a cycling track surrounded by sports grounds.
And the future is more than optimistic, since the new future face of Hloubětín which is being built now will stand on the history of this place and at the same time it will develop the strengths of this place, which it already offers now.
With respect to the history of this place
The place has been linked since 1921 to the development and technological advances that the Elektra factory has brought. Its production program ranged from light bulbs, vacuum tubes, radios and military production to radio and television transmitters. The products of this traditional consumer electronics still works in many families. The Tesla National Enterprise was a 45 year of quality work of Czechoslovak engineers and electrical technitians.
With the Nová Elektra project, we respect the tradition of this industrial site as much as possible and to set the building in such a way that it respects the surroundings of the place and completes it nonviolently.
...
Map legend
Flats Nová Elektra
Metro station
Tram stop
Gas station
Shopping center
Restaurant
Train station
Veterinary
Sport areal
Children playground
Kindergarten
Bicycle path
Elementary school
High school
Hairdresser
Aquapark
Post
Bus stop
Library
Pharmacy
ATM
Riding hall
Castle