Neighbours help each other, and we help as well
Our long-standing vision is to build places full of life. That is why you will always find the maximum services in each of our projects with sufficient purchasing power. With a few exceptions, we try to operate these commercial spaces ourselves in order to be able to influence the quality and diversity of services in a given location. We put a lot of time into having a restaurant, café, convenience store, shop, or even an ice cream parlour near your home.
Unfortunately, the current situation is literally ruthless to these businesses. That's why we try to find a way to help maintain your favourite businesses negotiating with each individual tenant, provided they stay in our property. Starting with the adjustment of rents up to administrative assistance with filling in applications for state support.
Even you can help
PEven you can help, if you are not indifferent to the fate of your favourite restaurant, shop, or café. It is quite simple. It will do nicely, if you will prefer local services over others in these difficult times. In order to make your orientation easier, we have prepared an overview of the businesses in the individual locations operated by us. Regardless of whether the business is our tenant or not. In addition to the summary list, you can also see the offer of selected restaurants or just remind yourself how nice it was in some of them through our reviews.
We have prepared a list of businesses in your area, sorted by our locations. Who knows, maybe you'll discover something new.
Red Café
4. 10. 2023
Denní nabídka
Hovězí vývar s masem a zeleninou
Boršč se zakysanou smetanou
Hovězí steak s cibulovými kroužky, pepřovou omáčkou a šťouchaným bramborem
Lilek s bulgurem a tomatovou omáčkou
Kuřecí prso se salátem z francouzské čočky
La Zmrzka
4. 10. 2023
Denní nabídka
Restaurace Maják
4. 10. 2023
Denní nabídka
Slepičí vývar se zeleninou a nudlemi; Vepřové maso po cikánsku, dušená rýže; Koláč s karamelizovanou hruškou
Chřestová; Boloňské špagety, sýr; Koláč s karamelizovanou hruškou
VEGEt Cowork
4. 10. 2023
Denní nabídka
Vegan ramen malý / velký (houby, tofu, nudle, zelenina, silný kořeněný vývar)
Smažená rýže s vuňákem, řasou a zeleninou
Černá čočka s fenyklem a jablkem ve smetanové omáčce
Restaurace Puzzlesalads
4. 10. 2023
Denní nabídka
Frankfurtská polévka s bramborami a smetanou - VELKÁ
Polévka z červené čočky s tandoori a koriandrem - MALÁ
Polévka z červené čočky s tandoori a koriandrem - VELKÁ
Bowl s trhaným vepřovým masem, salsou verde, rýží basmati, černými fazolemi, kukuřicí, rajčaty, ledovým salátem a koriandrem a lime olive oil
Protein passion pumpkin cheesecake
We have been visiting businesses in our locations for more than a year. The result of these visits are reviews or invitations to these businesses. Read how we liked it there.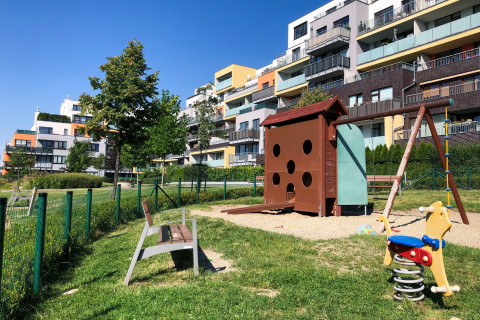 We visited: playground at Britská čtvrť
12. 9. 2020 Hřiště na Britské čtvrti
If you are looking for a more peaceful place to play in Britská čtvrť, be sure to visit the playground in the courtyard of the northernmost residential development (first stages of the houses). Today, all events are concentrated on the field near...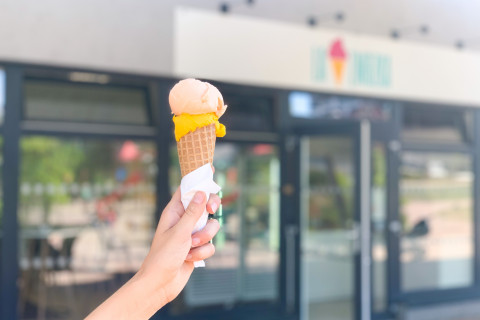 We visited: La Zmrzka
18. 8. 2020 La Zmrzka
La Zmrzka se řadí k jedněm z nejlepších zmrzlináren v Praze vůbec a vy máte to štěstí bydlet pouze pár kroků daleko!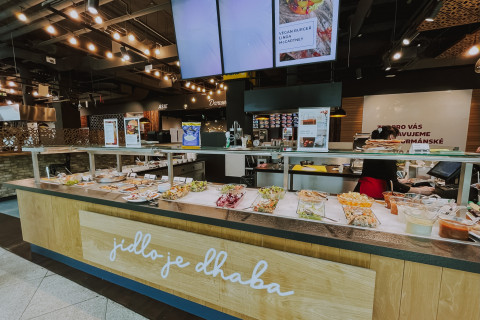 We visited: Dhaba Beas
4. 4. 2023 Dhaba Beas - Harfa
Prague 9
Flats Harfa Park
Dhaba beas is a very well known chain of vegetarian and vegan restaurants focusing on both Asian and traditional Czech cuisine in a healthy way.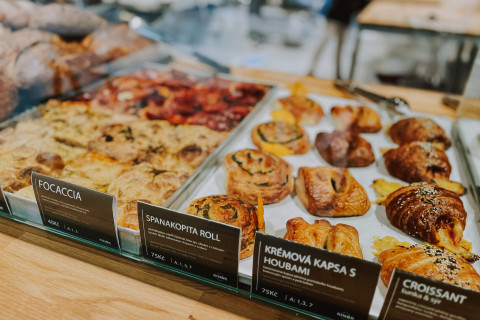 We visited: Kin & K Bakery
27. 2. 2023 Kin & K Bakery
Vysočany
Prague 9
Flats Harfa Park
If you're looking for a great bakery near your home, then you've just found the jackpot! Kin & K Bakery, located on the second floor of the Harfa shopping centre, is one of our favourite bakeries in the entire city.
Reviews from the Barrandov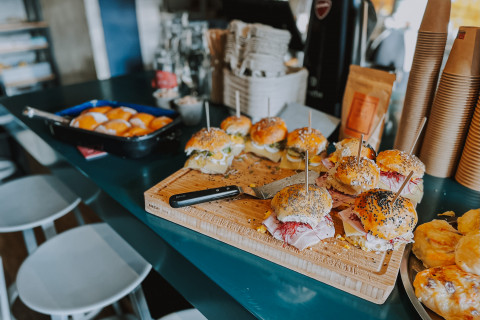 We visited: eM3 Coffee
1. 11. 2022 eM3 Coffee
eM3 Coffee is a great proof that even outside the centre of Prague you can find very good and pleasant places with excellent coffee, refreshments and a great atmosphere. eM3 is a cosy café which you can find a few steps from the tram stop Geologická.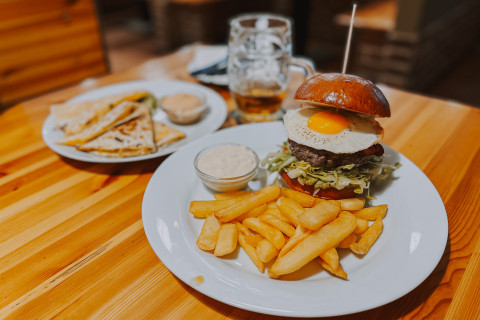 We visited: Double's Steak & Burger
23. 3. 2022 Doubles Steak & Burger
Draft beer, a wide selection of burgers, quesadillas or steaks and above that all great prices! That's Double's Steak & Burger – a restaurant located just a short walk from your home in the Barrandov Cascades!
Reviews from the Pergamenka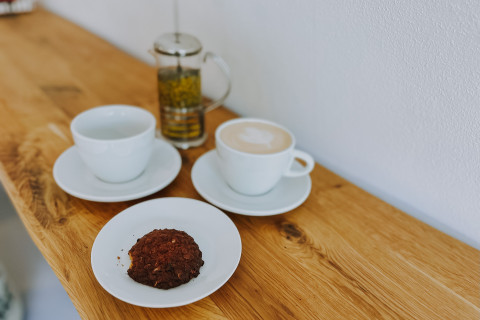 We visited: La Brioche
17. 9. 2022 La Brioche
La Brioche is a cosy French bakery offering delicious sweet and savoury pastries and cakes. Every day they bake their own croissants, homemade biscuits or the famous French eclair. In addition, they offer excellent coffee or a wide selection of tea.
We visited: Pražská tržnice
7. 9. 2022 Pražská tržnice – Hala 22
Do you put an emphasis on farm-fresh, local, and above all fresh food in your shopping? Or do you simply like going to farmers' markets because of the atmosphere? Either way, you'll be happy to know that you don't have to go all the way to...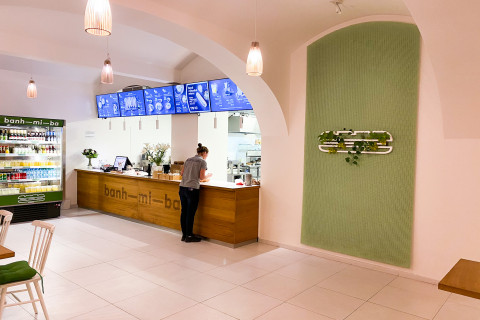 We visited: Banh mi ba
15. 12. 2020 Banh mi ba
Karlín
Flats U Sluncové
Prague 8
Perfect bistro for all Asian cuisine lovers, that is Banh Mi Ba! You can find it on five places all over Prague – one of them being close to your homes in Karlín!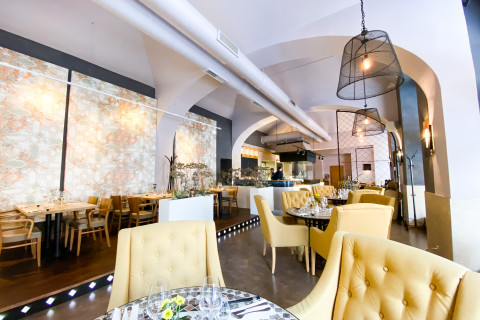 We visited: restaurant Sanduga
4. 12. 2020 Sanduga
Karlín
Flats U Sluncové
Prague 8
Sanduga is an Asian restaurant located right on the Karlin square. It is a high-class restaurant with a beautiful interior as well as outside seating.