Flat 110/H3
Flat 101/H1 - Sold
2(1)+kitchenette, 54,1 m2

Flat 102/H1 - Sold
2(1)+kitchenette, 53,8 m2

Flat 103/H1 - Sold
3+kitchenette, 86,5 m2

Flat 104/H1 - Sold
3+kitchenette, 86,5 m2

Flat 105/H1 - Sold
2(1)+kitchenette, 53,9 m2

Flat 106/H1 - Sold
2(1)+kitchenette, 53,8 m2

Flat 107/H1 - Sold
3+kitchenette, 88,1 m2

Flat 108/H1 - Sold
2(1)+kitchenette, 54 m2

Flat 109/H1 - Sold
2(1)+kitchenette, 54,4 m2

Flat 110/H1 - Sold
4+kitchenette, 119 m2

Flat 111/H1 - Sold
2(1)+kitchenette, 54 m2

Flat 112/H1 - Sold
2(1)+kitchenette, 55,2 m2

Flat 101/H2 - Sold
2(1)+kitchenette, 54,1 m2

Flat 102/H2 - Sold
2(1)+kitchenette, 53,8 m2

Flat 103/H2 - Sold
3+kitchenette, 86,5 m2

Flat 104/H2 - Sold
3+kitchenette, 86,5 m2

Flat 105/H2 - Sold
2(1)+kitchenette, 53,9 m2

Flat 106/H2 - Sold
2(1)+kitchenette, 53,8 m2

Flat 107/H2 - Sold
3+kitchenette, 88,1 m2

Flat 108/H2 - Sold
2(1)+kitchenette, 54 m2

Flat 109/H2 - Sold
2(1)+kitchenette, 54,4 m2

Flat 110/H2 - Sold
4+kitchenette, 119 m2

Flat 111/H2 - Sold
2(1)+kitchenette, 54 m2

Flat 112/H2 - Sold
2(1)+kitchenette, 55,2 m2

Flat 101/H3 - Sold
2(1)+kitchenette, 54,1 m2

Flat 102/H3 - Sold
2(1)+kitchenette, 53,8 m2

Flat 103/H3 - Sold
3+kitchenette, 86,5 m2

Flat 104/H3 - Sold
3+kitchenette, 86,5 m2

Flat 105/H3 - Sold
2(1)+kitchenette, 53,3 m2

Flat 106/H3 - Sold
2(1)+kitchenette, 53,8 m2

Flat 107/H3 - Sold
3+kitchenette, 88,1 m2

Flat 108/H3 - Sold
2(1)+kitchenette, 54 m2

Flat 109/H3 - Sold
2(1)+kitchenette, 54,4 m2

Flat 110/H3 - On sale
4+kitchenette 119 m2
282 552.0 €

Flat 111/H3 - Sold
2(1)+kitchenette, 54 m2

Flat 112/H3 - Sold
2(1)+kitchenette, 55,2 m2
i

You have chosen Malý háj VII
Choose floor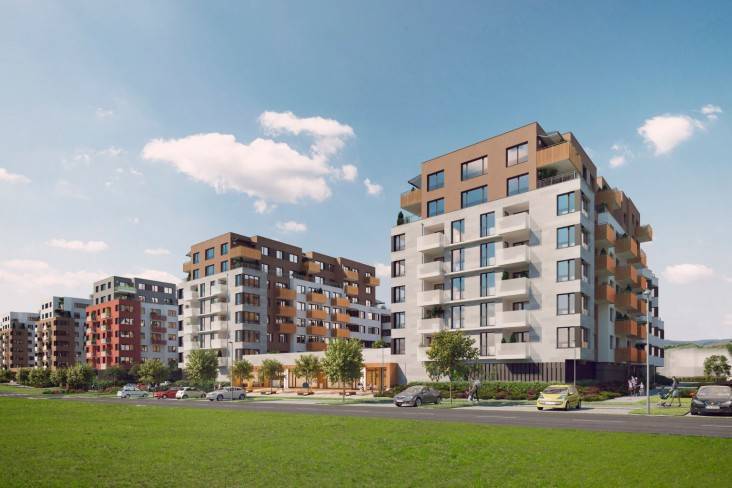 1. NP
2. NP
3. NP
4. NP
5. NP
6. NP
7. NP
Flat plan

Flat

Floor plan

Floor

Model flat
Flat 110/H3
Plan

Project

Stage

Floor

Orientation

E, N, W

Balcony

16,3 m2

Terrace

15,8 m2

Garage

Yes

The price of the garage parking place is not included in the total price of the apartment.

Storage room

Yes

The price of the utility room is not included in the total price of the apartment.
Ownership

Personal

Layout

4+kitchenette

Area

119 m2

Status

On saleN

Tentative reserved

Price inc. VAT

282 552 €i

The price of the apartment unit is valid subject to the employment of a 90/10 payment schedule. Should a different manner of payment be employed, the price shall be agreed with the client individually. The listed prices do not include the garage parking space, the parking space outside of the garage and, as the case may be, a utility room and a cellar.
We'll help you to finance your property
With a mortgage with instalments starting from

898 €i

Monthly at LTV 20 % and 30 years maturity, calculation is only indicative.

Spočítejte si splátky

By selling another property of yours
Add to My Selection
Remove from My Selection
Calculate the amount of your instalments
You can calculate an approximate value of your monthly mortgage instalment quickly and easily thanks to our calculator.
Item price

€

Own capital

56 510 €

Fixation period

5 Years

Time of repayment

Interest rate from

2.54 % p.a.

Installment from

898 €
This calculation is only indicative and applies for own resources amounting to 20 % or 80% LTV. For an exact calculation based on individual requirements and parameters contact our financial specialists. The calculation has been drawn up based on a real estate price determined according to the schedule of payments 90/10.
Phase VII of the Malý háj residential project
Malý háj VII is formed by three residential houses - house H1, H2 and H3
There is 72 new apartments in each house, with the layouts of 1+kitchenette (from 28 m2) to more spacious 4+kitchenette (up to 109 m2) being built
Each of the apartments has its balcony, loggia, or terrace
Parking in underground garages
Excellent accessibility to public transport (4-minute walk to bus stop) and connection to Prague's access roads
Special 3-year warranty
Energy efficiency class B– relates to all apartments in this phase
Status: on sale
Architect: AHK ARCHITEKTI, s.r.o., Project designer: BUILDING, s.r.o.
The successfully developing residential quarter between Štěrboholy and Dolní Měcholupy is a modern locality of many possibilities. And not only due to the combination of the really near nature, the accessibility of many services, the problem-free connection to the "South Connecting Road" and the arterial roads for Mladá Boleslav and Hradec Králové, but also due to the comprehensive modern architecture. There are beautiful nature parks, Hrušov and Říčanka, waiting literally "round the corner", including Prague cycle tracks. Modern "shopaholics" will certainly be pleased with the vicinity of Europark, a large shopping centre, and Fashion Arena.
Malý háj phase VII is formed by three residential houses. Seventy-two new flats in each building, from 1+kk to 4+kk (where "kk" means a kitchenette area), will be created at stage 7 of this residential project. All owners of a flat in this residential house will certainly be pleased with the possibility of enjoying a balcony, terrace or enclosed balcony every day. Families can enjoy modern and safe playgrounds. The problem-free accessibility of the centre of the capital will be ensured by municipal public transport, where a bus stop is a four-minute walk away and the Metro Line A – Depo Hostivař stop or a tramway line stop is not more than 10 minutes away. In the future the transport services of the Malý háj locality will be even better due to the planned tramway line that is now in the project preparation phase.
Bank financing this stage:
Model flats at this locality
Finance the purchase by selling another property
Do you need to finance purchase of a new property by selling another? We are ready to help you both with sale and all the related issues. Contact us with confidence and we will arrange an appointment for you.