Cooperative flat 407/D
Cooperative flat 401/D - Sold
1+kitchenette, 29,7 m2

Cooperative flat 402/D - Sold
1+kitchenette, 37,7 m2

Cooperative flat 403/D - Sold
2(1)+kitchenette, 52 m2

Cooperative flat 404/D - Sold
2(1)+kitchenette, 54 m2

Cooperative flat 405/D - Sold
2(1)+kitchenette, 56,6 m2

Cooperative flat 406/D - Sold
1+kitchenette, 26 m2

Cooperative flat 407/D - On sale
1+kitchenette 26 m2
120 536.0 €

Cooperative flat 408/D - Sold
1+kitchenette, 26 m2

Cooperative flat 409/D - On sale
1+kitchenette 26 m2
120 536.0 €

Cooperative flat 410/D - On sale
1+kitchenette 26 m2
120 536.0 €

Cooperative flat 411/D - On sale
1+kitchenette 26 m2
120 761.0 €

Cooperative flat 412/D - Sold
2(1)+kitchenette, 51 m2

Cooperative flat 413/D - Sold
2(1)+kitchenette, 51 m2

Cooperative flat 414/D - Sold
2(1)+kitchenette, 48 m2

Cooperative flat 415/D - On sale
3+kitchenette 68,8 m2
246 864.0 €

Cooperative flat 416/D - Sold
2(1)+kitchenette, 51 m2
i

You have chosen Kaskády Barrandov VII
Choose floor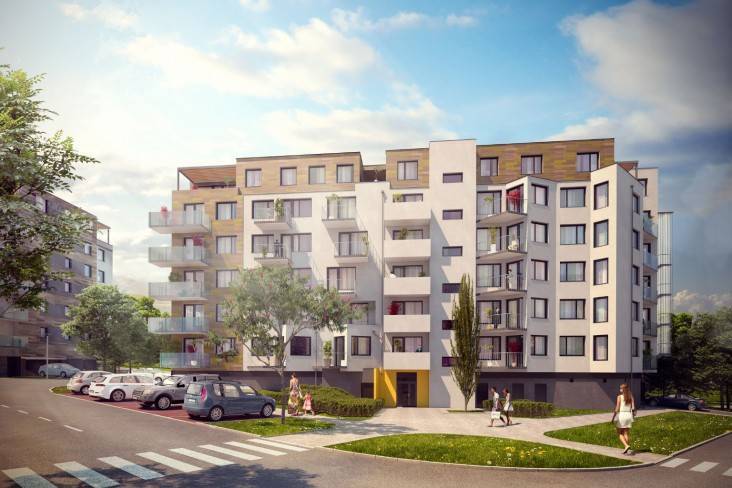 1. NP
2. NP
3. NP
4. NP
5. NP
6. NP
Flat plan

Flat

Floor plan

Floor

Model flat
Cooperative flat 407/D
Ownership

Cooperative

Layout

1+kitchenette

Area

26 m2

Status

On saleN

Tentative reserved

Price inc. VAT

120 536 €i

The listed prices do not include the garage parking space, the parking space outside of the garage and, as the case may be, a utility room and a cellar.
Funding opportunities
Rental

434 €i

Subject to a membership deposit of 25 %

Calculate the amount of your rent

By selling another property of yours
Add to My Selection
Remove from My Selection
Cooperative calculator
You can calculate an approximate value of your monthly rent quickly and easily thanks to our calculator.
Purchase price

€

Member's contribution share

Membership deposit

30 134 €

Interest rate

3.11 % p.a.

Due date

25 Years

Rent from

434 €
Calculation is only indicative.
Kaskády Barrandov VII is formed by one residential houses
The total number of new apartments in this phase is 85 with the layouts of 1+kitchenette (26m2) to more spacious 4+kitchenette (103m2)
The apartments are offered with the possibility of variable interior solutions
Parking in underground garages
Close to the tram and bus stops, direct connection to center of Prague
Rich civic amenities
Energy efficiency class C
Status: under construction
Architect: AHK ARCHITEKTI, s.r.o., Project designer: BUILDING, s.r.o.
Barrandov is a great place for housing and living. We know it and we are glad that we can enrich the residential market of Prague with our new offer of apartments. Our modern urban apartments are meant for young couples, currently so trendy singles, or for families with children.
The seventh phase of the Kaskády Barrandov project brings about an offer of modern cooperative apartments with layouts from 1+kitchenette (from 26m2) up to 4+kitchenette (up to 103m2). Each of the cooperative apartments has its own balcony, terrace or loggias. Roofed parking places or parking places situated directly in front of a house are prepared there for your beloved cars.
Barrandov provides its citizens with a complete range of public facilities and abundant city infrastructure including schools, kindergartens, and health-care facilities, offices of various institutions or shops and a big bonus is for example a waterpark open all year round. Transportation to the city centre is provided by several tram routes with regular transport to Smíchov train station (12 min) and Václavské náměstí (Wenceslas Square) (20 min).
Bank financing this stage:
Model flats at this locality
Finance the purchase by selling another property
Do you need to finance purchase of a new property by selling another? We are ready to help you both with sale and all the related issues. Contact us with confidence and we will arrange an appointment for you.
...
Map legend
Flats Kaskády Barrandov
Gas station
Elementary school
Kindergarten
Children playground
Sport areal
Police station
Library
Restaurant
ATM
Shopping center
Doctor
Pharmacy
Bus stop
Tram stop
Aquapark