Flat 603/C
Flat 601/C - Sold
3+kitchenette, 78,7 m2

Flat 602/C - Sold
4+kitchenette, 104 m2

Flat 603/C - On sale
4+kitchenette 106 m2
323 610 €

Flat 604/C - Sold
2(1)+kitchenette, 49,7 m2

Flat 605/C - Sold
2(1)+kitchenette, 50,2 m2

Flat 606/C - Sold
2(1)+kitchenette, 51,6 m2

Flat 607/C - Sold
2(1)+kitchenette, 51,7 m2

Flat 608/C - Sold
2(1)+kitchenette, 57,5 m2

Flat 609/C - Sold
2(1)+kitchenette, 55,7 m2

Flat 610/C - Sold
1+kitchenette, 29,1 m2

Flat 611/C - Sold
3+kitchenette, 69,5 m2
i

You have chosen Kaskády Barrandov IX
Choose floor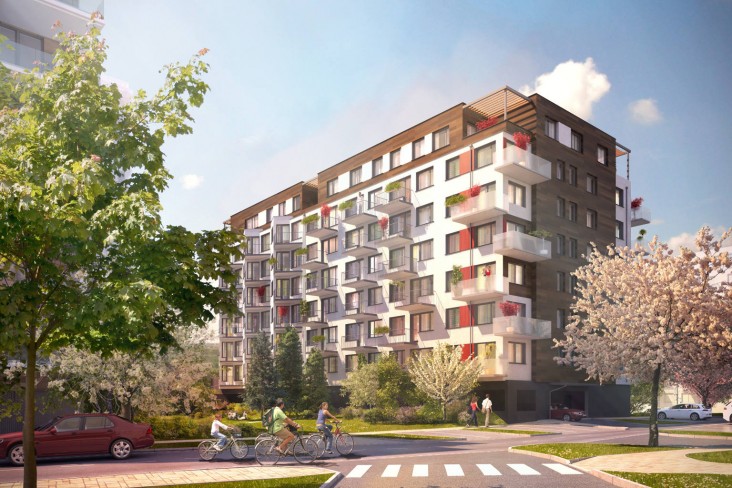 1st floor
2nd floor
3rd floor
4th floor
5th floor
6th floor
7th floor
Flat plan

Flat

Floor plan

Floor

Model flat
Flat 603/C
Plan

Project

Stage

Floor

Orientation

S, W

Balcony

14 m2

Garage

Yes

The price of the garage parking place is not included in the total price of the apartment.

Storage room

Yes

The price of the utility room is not included in the total price of the apartment.
Ownership

Personal

Layout

4+kitchenette

Area

106 m2

Status

On saleN

Tentative reserved

Price inc. VAT

323 610 €i

The price of the apartment unit is valid subject to the employment of a 90/10 payment schedule. Should a different manner of payment be employed, the price shall be agreed with the client individually. The listed prices do not include the garage parking space, the parking space outside of the garage and, as the case may be, a utility room and a cellar.
We'll help you to finance your property
With a mortgage with instalments starting from

982 €i

Monthly at LTV 20 % and 30 years maturity, calculation is only indicative.

Calculate your installments

By selling another property of yours
Add to My Selection
Remove from My Selection
Calculate the amount of your instalments
You can calculate an approximate value of your monthly mortgage instalment quickly and easily thanks to our calculator.
Item price

€

Own capital

64 722 €

Fixation period

5 Years

Time of repayment

Interest rate from

2.19 % p.a.

Installment from

982 €
This calculation is only indicative and applies for own resources amounting to 20 % or 80% LTV. For an exact calculation based on individual requirements and parameters contact our financial specialists. The calculation has been drawn up based on a real estate price determined according to the schedule of payments 90/10.
Kaskády Barrandov IX is formed by one residential houses
The total number of new apartments in this stage is 76 with the layouts of 1+kitchenette (from 29 m2) to more spacious 4+kitchenette (up to 107 m2)
The apartments are offered with the possibility of variable interior solutions
Parking in underground garages
Close to the tram and bus stops, direct connection to center of Prague
Rich civic amenities
Energy efficiency class B
Status: under construction
Architect: AHK ARCHITEKTI, s.r.o., Project designer: BUILDING, s.r.o.
Kaskády Barrandov project represents a modern and dynamic locality with excellent civic amenities and a well-developed transport infrastructure. Already the ninth stage of this project brings 76 apartments for personal possession to those who are looking for a new home. New residents can enjoy a wide range of services such as restaurants and shops. Parks and playgrounds or places to relax as well as schools, kindergartens, health-care facilities, a post office and other offices are available nearby within the locality. In addition, for the future we are planning to build a quite new central square offering the citizens many shops and services.
Bank financing this stage:
Model flats at this locality
Finance the purchase by selling another property
Do you need to finance purchase of a new property by selling another? We are ready to help you both with sale and all the related issues. Contact us with confidence and we will arrange an appointment for you.