Kaskády Barrandov IX

5th floor

Flat 506/C
Flat 506/C
Flat 501/C - On sale
3+kitchenette 78,7 m2
241 520.0 €

Flat 502/C - On sale
4+kitchenette 104 m2
304 321.0 €

Flat 503/C - On sale
4+kitchenette 105,5 m2
313 098.0 €

Flat 504/C - On sale
2(1)+kitchenette 49,7 m2
163 304.0 €

Flat 505/C - On sale
2(1)+kitchenette 50,2 m2
164 867.0 €

Flat 506/C - On sale
2(1)+kitchenette 51,6 m2
168 772.0 €

Flat 507/C - Sold
2(1)+kitchenette, 51,7 m2

Flat 508/C - Sold
2(1)+kitchenette, 57,5 m2

Flat 509/C - On sale
2(1)+kitchenette 55,7 m2
175 676.0 €

Flat 510/C - Sold
1+kitchenette, 29,1 m2

Flat 511/C - On sale
3+kitchenette 68,9 m2
230 156.0 €
i

You have chosen Kaskády Barrandov IX
Choose floor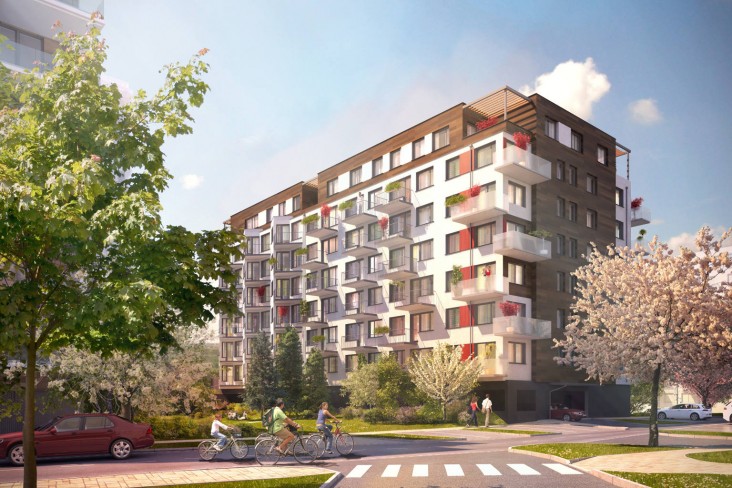 Floor plan

Floor

Model flat
Flat 506/C
Plan

Project

Stage

Flats Kaskády Barrandov IX

Floor

5th floor

Orientation

W

Balcony

4,8 m2
Ownership

Personal

Layout

2(1)+kitchenette

Area

51,6 m2

Status

On sale

Price inc. VAT

168 772 €i

The listed prices do not include the garage parking space, the parking space outside of the garage and, as the case may be, a utility room and a cellar.
We'll help you to finance your property
With a mortgage with instalments starting from

554 €i

Monthly at LTV 20 % and 30 years maturity, calculation is only indicative.

Spočítejte si splátky

By selling another property of yours
Add to My Selection
Remove from My Selection
Calculate the amount of your instalments
You can calculate an approximate value of your monthly mortgage instalment quickly and easily thanks to our calculator.
Item price

€

Own capital

33 754 €

Fixation period

5 Years

Time of repayment

Interest rate from

2.79 % p.a.

Installment from

554 €
This calculation is only indicative and applies for own resources amounting to 20 % or 80% LTV. For an exact calculation based on individual requirements and parameters contact our financial specialists. The calculation has been drawn up based on a real estate price determined according to the schedule of payments 90/10.
Kaskády Barrandov IX is formed by one residential houses
The total number of new apartments in this phase is 76 with the layouts of 1+kitchenette (from 29 m2) to more spacious 4+kitchenette (up to 107 m2)
The apartments are offered with the possibility of variable interior solutions
Parking in underground garages
Close to the tram and bus stops, direct connection to center of Prague
Rich civic amenities
Energy efficiency class B
Status: on sale
Architect: AHK ARCHITEKTI, s.r.o., Project designer: BUILDING, s.r.o.
Barrandov is a great place for housing and living. We know it and we are glad that we can enrich the residential market of Prague with our new offer of apartments. Our modern urban apartments are meant for young couples, currently so trendy singles, or for families with children.
The seventh phase of the Kaskády Barrandov project brings about an offer of modern cooperative apartments with layouts from 1+kitchenette (from 26m2) up to 4+kitchenette (up to 103m2). Each of the cooperative apartments has its own balcony, terrace or loggias. Roofed parking places or parking places situated directly in front of a house are prepared there for your beloved cars.
Barrandov provides its citizens with a complete range of public facilities and abundant city infrastructure including schools, kindergartens, and health-care facilities, offices of various institutions or shops and a big bonus is for example a waterpark open all year round. Transportation to the city centre is provided by several tram routes with regular transport to Smíchov train station (12 min) and Václavské náměstí (Wenceslas Square) (20 min).
Bank financing this stage:
Model flats at this locality
Finance the purchase by selling another property
Do you need to finance purchase of a new property by selling another? We are ready to help you both with sale and all the related issues. Contact us with confidence and we will arrange an appointment for you.